Does USPS Deliver On Thanksgiving? Mail services have been in existence for years. Mail services handle a ton of items every day. These services have ensured that every mail, every parcel gets delivered as quickly as possible to the recipient.
There have been multiple companies like United States Postal Service, UPS (United Parcel Service), and FedEx that provide these mail services ensuring easy and quick transmission of mail from the sender to the receiver. The people working under this mail system put all their efforts into delivering the mails and packages right on time. However, there are certain days when these postal employees are on leaves, for instance, on Thanksgiving Day or certain federal holidays.
Perhaps, some people are eager to get their packages delivered and hence ask the curious question of whether the mail runs on Thanksgiving. Some individuals do not even have the idea of whether Thanksgiving is considered a federal holiday or not. So, there is a range of questions that spring up such as whether mails run on federal holidays, is mail delivered, whether the post office is open on Thanksgiving, and so on.
So If you want to know more about post office holidays then We have published a detailed guide here.
Well, it is important to know the answer to these basic questions. So, here are the answer to these doubts.
Whether Thanksgiving is considered a Federal holiday?
The answer to this question is yes. Thanksgiving is a federal holiday wherein almost all the government offices such as libraries, schools, banks, and all the other public services including federal offices and postal services remain closed.
There might be certain offices that might function according to fixed timing and schedule on Thanksgiving and other national holidays. So, the point is to be made to know about these working hours and schedules.
Does the USPS deliver on Thanksgiving Day?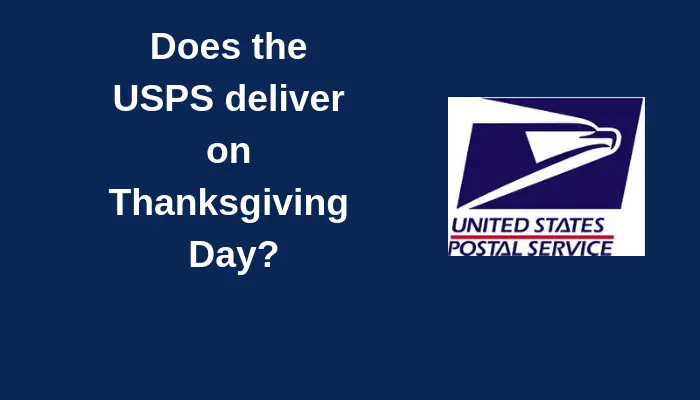 Now comes the major question of whether the USPS delivers on Thanksgiving or not. Well, the answer is no. USPS does not deliver on Thanksgiving Day.
The postal offices stay close on this day. No delivery of standard mail and packages is done on this federal holiday unless and until the Priority Mail Express service is used.
It is to highlight that any package through Priority Mail Express service runs all around the year, that is, the packages and mail through this service get delivered all 365 days.
When talking about the United States Postal Service postal offices, whether they are open and running on Thanksgiving, then the answer is again no. The postal offices remain closed for any pick-up and delivery purposes.
Though there might be a certain limited level of internal functioning on federal holidays, it is assured that there is timely delivery of the packages and the parcels on such holidays.
They work on these days to deliver the packages under Priority Mail Express service, to ensure that there is sorting of the mail and these mail moved from one facility to another. This in short means that even though the United States Postal Service runs on Thanksgiving and other federal holidays, the customers would have no access whatsoever to retail services and facilities of USPS on such federal leaves.
Does USPS Works On Black Friday? & Is Mail Delivered Today?
Many people also come up with the question that whether the USPS works on the day following Thanksgiving Day. Well, the day after Thanksgiving is Black Friday. Even though Black Friday is a state holiday in more than half of the states in the United States, it is not a public holiday. Black Friday is a paid leave for almost 80% of the employees.
But, since it is not a federal holiday, all of the post offices will be open, and the mail services will normally run on the day following Thanksgiving Day.
Read more on Is The Post Office Open on Black Friday?
How are you gonna check whether is the post office open tomorrow or today? Simple, we have published a detailed guide on post office public holidays on our blog. Please check that out and confirm whether the post office is open today near your location.
The next thing that some might come up with is whether the UPS and FedEx run and deliver on Thanksgiving Day since United States Postal Service is closed. So, the answer is no yet again. UPS and FedEx both do not function on the favorite Thanksgiving Day. However, UPS Express Critical services and FedEx's same-day package service, which are similar to the Priority Mail Express service of the USPS, deliver even on Thanksgiving Day.
Conclusion:
It is all about does USPS deliver on Thanksgiving or not. And you find the answer. So to conclude, we hope we have answered all your queries and doubts regarding the working status of the USPS on Thanksgiving Day.