There are times when you wish to have certain products delivered to foreign countries as fast as possible. There may be strict deadlines for urgent deliveries, and all you need is a guaranteed service to assure you a date-certain delivery. Well, USPS Global Express Guaranteed is at your service to provide you just that.
The USPS Global Express Guaranteed is the fastest international shipping service brought to you by USPS. It guarantees deliveries within 2-3 business days, sometimes even performing overnight deliveries. 
The Global Express Guaranteed service even offers the customers a money-back guarantee along with guaranteed date-certain deliveries. The service is great for emergency or business deliveries across the world.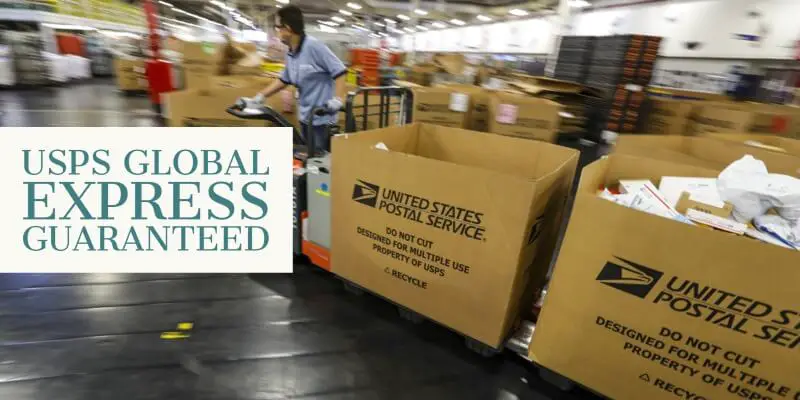 USPS Global Express Guaranteed : Get All the Details 
Here is a brief guide for you to avail the USPS Global Express Guaranteed service with greater ease.
Features
The USPS Global Express Guaranteed service comes with the following features:
Fastest international delivery
Guaranteed delivery within 2-3 business days
Overnight deliveries (for certain places)
Certain-date deliveries
Money-back guarantee
Delivery service to over 190 countries across the globe
GXG Shipping Kit (envelops, stickers, labels) is free with this service
Free package pickup available in certain cases
Provides up to $100 insurance
Pricing
The price for USPS Global Express Guaranteed service starts at $67.80. However, the pricing varies depending on:
Size
Shape 
Weight
Destination
Package Requirements
There are maximum weight and size requirements for the package that you wish to deliver through this service.
Weight: 70 lbs
Size: Length 45 inches, Breadth 35 inches, Height 46 inches
Combined Length and Girth: 108 inches
Shipping Prohibitions
USPS Global Express Guaranteed Service prohibits you from shipping certain hazardous materials. Some of them are:
Cigarettes or tobaccos
Fruits or vegetables
Air Bags
Aerosols
Nail Polish
Perfumes
Alcoholic Beverages
Gasoline
Dry Ice
Marijuana
Poison
Explosives
Certain other countries may have more items to add to the list. So, confirm that your shipping package doesn't contain any of these prohibited items before you avail of the GXG service.
Step By Step Guide to Avail the GXG Service
Here are the steps that you need to follow to ship your deliveries through USPS Global Express Guaranteed Service.
Step 1: Sign up for the Click-N-Ship online service.  
Step 2: USPS tools will create a custom form for you.
Step 3: Fill in the form with all the required shipment information (name, address, phone number, etc.) 
Step 4: Carefully enter the package description with the maximum details possible, along with other information like custom value.
Step 5: Positively attach the signature of the sender.
Have a final check to verify the information provided before clicking on that submit button.
Refund Request
The USPS Global Express Guaranteed Service comes with a money-back guarantee. So, you can request a refund if they fail to deliver your product within the guaranteed delivery date or if the package is lost or damaged in the process.
Call their Customer Service Representative at 1-800-222-1811 to enquire about your package and file a refund request. Make sure you initiate your refund request within 30 days of shipment to avail of the offer.
The USPS Global Express Guaranteed Service will refund your money unless any one of the following cases occurs:
The delivery was attempted at the designated time but couldn't be made.
The form contained an incorrect delivery address.
Certain uncontrollable circumstances (like Customs Delays) caused the delay in delivery.
Special Requirements for China
Special care must be taken for availing the non-document shipment to China via USPS Global Express Guaranteed Service. The customer must provide a packing slip including the following:
A detailed description of the goods
Number of pieces
Number of units per piece
Weight of the package
The units of measurement
This special requirement is applicable for both gifts and commercial services.
Some Other Important Points to Note
Here are some important points to note before you proceed to avail the GXG Services:
Shipments that require one to fill in the Electronic Export Information (EEI) are prohibited for GXG services.
GXG Deliveries to P.O. Addresses is restricted to some countries.
Postage refunds are not eligible for shipments to post office boxes.
GXG can provide Package Pickup or Pickup on Demand Services to certain particular locations only.
Upon delivery, the recipient is required to provide his signature.
The recipient is required to pay the duties and taxes before the delivery is made.
Customers can access free GXG packaging and forms by contacting them via 1-800-610-8734
Frequently Asked Questions
Here are some frequently asked questions regarding the USPS Global Express Guaranteed Service.
Q: Does USPS Global Express Guaranteed Service have insurance?
A: USPS Global Express Guaranteed Service provides up to $100 insurance automatically. You can purchase additional insurance services in incremental amounts up to $2499 or less, depending upon the destination country. The insurance section of the official website will provide you further details. 
Q: Does GXG Service provide a refund for the item returned to the sender?
A: No, the GXG refund service isn't available for returned products. Once the delivery is made, USPS won't take any refund requests from the customer. You can check out more about their refund policies on the official website.
Q: Can the delivery via GXG service be tracked? 
A: Of course. USPS offers a free tracking service to its customers for all its delivery services. Just enter your package ID and tracking number on their tracking page to track your package.
USPS always strives to cater to the needs of its customers. And, with their Global Express Guaranteed Service, USPS is committed to bringing the best services for them. 
With just a few easy steps, you can avail of their GXG service and deliver your product to foreign countries at the fastest speed. USPS guarantees you either a speedy delivery or a quick refund. And more often than not, you can be sure of the first one.