If you have used USPS services, then you already know how their tracking system work. It helps you to keep track of your packages.
They provide you a tracking number with every shipment. Using this tracking number, you can monitor the delivery status of your package. On the USPS tracking page, you will find information like address of delivery, time and date of delivery, and others.
The good thing is that the USPS has a highly efficient tracking system. But just like every other thing, it can create issues too. There are times when you will see a message saying "USPS Tracking Not Updating". So what does this mean? In this post, we will tell you everything you need to know.
Why USPS tracking details are not updating?
First-class tracking is not updating can happen due to many reasons. You are not the first person to face this problem. This can happen to anyone. Some of the main reasons why this happens include:
Every package comes with barcodes attached to it which are scanned at the facility. The scanning process can take longer as there are hundreds of packages to be scanned.
Every time the barcode of your package is scanned, you receive an update related to your shipment. In case, the scanner is malfunctioning or the process is interrupted or delayed due to some reason, then your tracking status will not be updated.
Check quick solution when you lost Usps Tracking Number.
Any kind of delay in scanning your package can lead to this problem. It can happen that the delivery staff has fallen sick and therefore, your package is not scanned.
Another reason could be weather conditions that can delay your package delivery. Heavy rain, snow, and thunderstorms can cause traffic problems and other damages that can delay the entire process.
Your package travels between different destinations where it needs to be scanned at every location. If the item gets delayed due to bad weather conditions, then the scanning will get delayed too. In this case, your tracking status will not get updated.
If the barcode on your package is damaged, then it will prevent the scanner from scanning it. This may lead to a situation where your tracking status doesn't get updated.
Another reason that your delivery status is not updated is that the carrier is not scanning the package on purpose. This can happen when there is a holiday or they receive too many packages in a day.
In case, your delivery status doesn't get updated within a week, then there are chances that your package is already out for delivery. But due to unexpected issues, it is stuck somewhere in the route.
What can you do?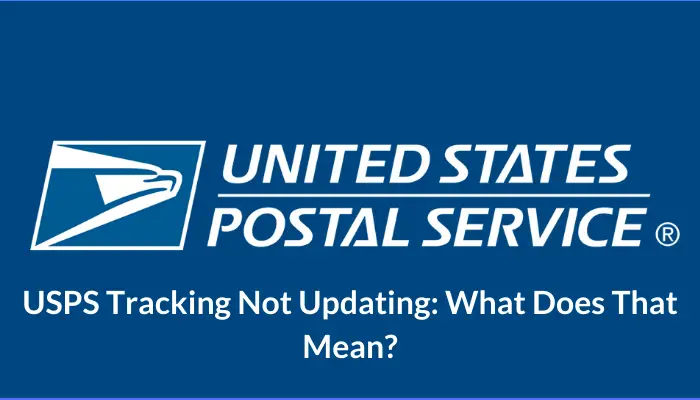 If your tracking details are not getting updated, then you should wait for a few days and see what happens. If it is still the same, then you should call USPS and ask them about your package.
You can also visit the last facility that is showing in your tracker and find out what happened to your package. But calling on this number 1800-ASK-USPS seems to be a better idea.
When talking to the customer representative, ask him to provide you the tracking details of your parcel. Once you call the USPS helpdesk, they will make sure that you receive information on your package within 24 to 48 hours. The good thing is that they give you accurate information.
How to get tracking information when USPS tracking not updating?
There is more than one way to get the tracking information of your package. Here is what you can do:
1. You can track your parcel online on their official web portal.
2. You can sue a smartphone app to track your package.
3. You can also send a text message with your tracking number to USPS (28777).
4. You can call officials to know about your package.
Once the tracking details gets updated, you will receive a message "out for delivery".
If your USPS tracking stopped updating, there is no need for you to worry. Wait for a couple of days, before you call the USPS officials. USPS customer care service is very efficient. They will provide you accurate information about your package.
FAQs
What happens when USPS tracking doesn't update for days?
If your tracking details are not updating for days, then you should give a call to the USPS officials and ask them about your package. They will give you all the information you need.
How long does it take for USPS tracking to update?
It usually takes around 24 hours for USPS tracking to get updated. But due to unexpected circumstances, the process can take longer than usual.
How often USPS tracking status gets updated?
Every time your package is scanned, the tracking details on your screen gets updated. This can happen multiple times until you get your package.
Can you see where your USPS package is?
Yes, with the help of the USPS tracking system, you can see where exactly your package is. You can use the tracking system at any time.