Before I share information about how to cancel PO Box, let me tell you a bit about it? Po Box stands for post office box. Those who want to avoid home delivery like to rent a PO Box. Rented PO Box safeguards the safety and privacy of the users. This is a premium but paid service. 
The subscription and cancellation of the service involve a proper format. The formalities can be done both offline and online as per your convenience. Once you get the possession, a fixed time is there to access the box. Some offices provide round the clock service too. 
A lock and key or combination system are used for the operation. Coming to the key point of the article on how to cancel a PO box, since the prime reasons for getting a PO is privacy and security, cancellation of the same is not a trivial issue. The modern technical era allows you to manage PO Box online.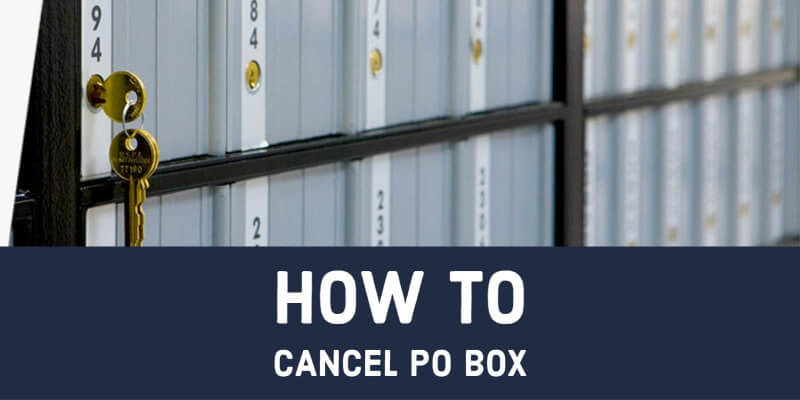 So the cancellation process is possible online too. Needless to say, it is a less complicated and more time-saving approach as compared to paperwork. The refund procedure is also there depending upon the office policy. However, the physical visit is a must for handing over the keys and vacating the box. It is a major part of cancellation.
Reasons of Cancellation of PO Box
Both parties can cancel the PO box. When the owner decides to discontinue the service, it is a voluntary step. The reasons may vary from personal to professional, like relocation and service dissatisfaction, the box is no more required or payment issue. 
The post office holds the right to cancel a PO box too. In that case, it is involuntary. Following are some major reasons for such action against the renter
Non-payment of fees
Misleading or false information in the application form
Mishandling of the box, damaging the key
Irregular collection of mails
Avoiding the above mentioned cases will keep your harassment at bay! To continue getting services to be a payment master. Do not be a defaulter! While opening the account, you can link your bank details so that the subscription is auto-debited. 
At the time of filling the application form, be careful. If any discrepancies occur do the necessary changes or ask for help from the concerned department. A timely rectification will save you time and cash. Be punctual in collecting your mails.  
How to Cancel PO Box Online (Easy and Simple)
As mentioned earlier, you can manage your PO box online so that you can initiate the cancellation process online too. Keep reading to know the detailed steps of how to cancel po box online in 2021. 
Once you start using the services, you should open an online account for managing your PO Box. The link that accounts with your bank for financial transactions. This account will help you to raise a cancellation request. 
Any refund, if applicable, will be credited to your bank account post-cancellation. 
Steps of Cancellation of PO Box
Open the postal service page
Renew and manage section
Log in
Close PO Box
First, you have to open the website page. Look for the 'Renew or Manage section.' You need to fill in the required credentials for logging in. After this, you will be able to see your PO Box details. You will get detailed information about the PO Box/boxes you have. Close/refund PO Box is what you need to click on. 
Now the formalities will begin. You have to mention the reason for the cancellation. Once you have written down your reason, you have to agree to a disclaimer. Once done with this, confirm and select the Close PO Box option.
Refund policies are usually pre-determined. Once you confirm your cancellation page, your refund status will reflect. Usually, you do not get a refund of your key deposit. This is the only disadvantage of the online mode. You will get a refund of other unused services. You can go through the refund policy on the website. 
After the cancellation is processed, you will get the refund within five business days. It will reflect in the same bank account which you used for paying the PO Box fees. 
A full refund is applicable only if you have not activated the box. But only 30 days is given in that case. After that, you will get a refund only if you have paid a yearly or half-yearly subscription. 
If anything is due from your side, PO will settle that too. to help you more, the office has kept a 10 day grace period to empty your PO Box. During this time, you have to visit the PO and pick up your mails. Hand over the keys to the PO employee. This is how you close PO Box online. 
How to Cancel PO Box Offline
Offline cancellation means visiting the Post Office in person. On reaching the office, ask for the concerned person. They will guide you with the procedure. You will be asked a few questions for verification purposes. Like online mode here also you will have to give written consent. 
Do not forget to carry your key. The concerned employee will ask for it. Having done the paperwork, you have to wait for five days for the refund. The refund amount will reflect in your bank account. 
The best advantage of the offline mode is you get a refund of your key deposit. This is non-refundable in case of online cancellation. Remember this before choosing your cancellation mode. Other factors remain unaltered. The grace period is also the same. Within the next 10 days, you have to empty your PO Box.
Cancellation of PO Box includes few convenient steps. It is completely up to the person which mode he will opt for. To prevent any loss of money, it is better to visit the office in person and refund the key deposit. 
Also Read: Does USPS Deliver on Saturday and Sunday?
 Why is Cancellation of PO Box Necessary?
If you feel you are unable to handle the PO Box, it is advisable to know to wind it off properly. A rental period is there expiring which you will not be given access to the box. Hopefully now you know how to cancel po box both online and offline, if you still have doubts feel free to ask in comments.
With all your emails locked in, you will lose your money and possession. So don't let your emails pile up. Be active and alert!