What to do when your USPS package get missed?
How to find & get back your package?
There are very often questions have been asked by the users. Today, in this guide I will let you know what are the best ways to recover your USPS missed package without wasting the time on searching anywhere.
United States Postal Service is a one of the famous package delivery company that provides efficient and regular service and hence they have a precise system for delivering mail and packages. But in extreme rare condition, the customers miss or receiving their packages or the mail items. Sometimes the accidents happen, it can happen with reputed organization like USPS, too.
Whether you are receiving mail or sending mail, it is important for you as well as for United States Postal Service. That's why when USPS package is missing, they will try their best to find your parcel. If you have a missing package, you need to know few things and follow certain steps to allow U.S.P.S to find your box. And in this article, we will provide you detailed information on what to do when your the United States Postal Service package missed, stolen, or never delivered. So let's start with the very first step.
Key Steps to Follow When USPS Package is Missed/ Lost/ Stolen
Step-1: CHECK THE STATUS OF YOUR EMAIL to Check Whether Package is moving from one location to another or not.
Before you file any complain or missing report first step is to locate your mail or parcel, where it is? To get this answer visit the official site of USPS and find the tracking service option.
If you want to go directly to the tracking page click on the link given below, enter your tracking number and get updated status of your mail:
https://tools.usps.com/go/TrackConfirmAction_input
You can enter maximum 35 tracking number at once separated by a comma. In the case of dropping or missing mail, you can also pick the Informed Delivery option. This also shows you whether USPS package is moving & update its stats from one place to another or not.
It will give you a digital preview of your holding mail item. It will help you when your mail gets delayed in reaching its final address.
And this service is free of cost; you don't have to pay anything for it. With the Informed Delivery option, you can also handle your packages which may come before expected time. With this excellent service, it will be easier for you to see what is coming to your mailbox anywhere and anytime.
Step-2: CHECK STANDARD DELIVERY TIME:
Before you think that your USPS package is missing or stolen, first check its standard delivery timing because a different class has a different standard as well as suggested a time. And hence it may be possible that your mail is in transit and you think it may miss or stolen. Below here we provide a table that contains standard delivery timing with the suggested delivery time that shows that how long it takes to ship your mail.
Note that you have to wait until the suggested time starting from the date of shipping your parcel. If you do not get your parcel even after waiting for the specified period, then you need to raise your concern and follow the steps given below. But before that take a look at the below table.
| | | |
| --- | --- | --- |
| USPS Mail Class | Suggested Waiting Time | Standard Delivery Time |
| First-Class Mail | 5 or more days | 1 to 3 days |
| Priority Mail Express | N/A (guaranteed delivery) | 1 to 2 days |
| Priority Mail | 5 or more days | 1 to 3 days |
| Retail Ground | 14 or more days | 2 to 8 days |
| Media Mail | 14 or more days | 2 to 8 days |
| Bound Printed Matter | 14 or more days | 2 to 8 days |
| Marketing Mail | 14 or more days | 3 to 10 days |
SUBMIT SEARCH REQUEST FOR MISSING EMAIL: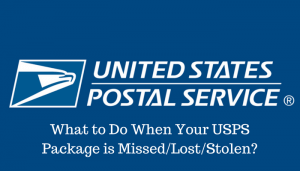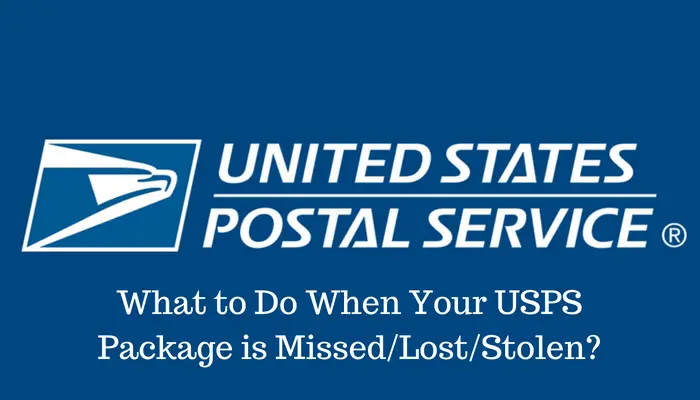 Once the suggested waiting time or seven business days pass, and you believe that you have a lost the package, it is time to take action. What you have to do is submit a search request for the Missing Mail. You can submit the search request by providing the following details:
The mailing address of the recipient
The mailing address of the sender
The type of the envelop or container the sender has used
The Size of the envelope or container the sender has used
You need to explain the belongings of the mail item. The information related to the content may be what precisely the shipment it, the size of the mail item, the model of the mail piece, the brand of the mail item, the color of the item, or any other detail of the content as relevant.
Also, you have to provide information related to the identification. The identifying information can be numbers of your package or packages or the USPS Tracking number or the date when you mailed the package as specified in your mailing receipt. They also need the Click-N-Ship label receipt.
In case you have the image of the missing mail item, it would be good. With the picture, it will be helpful for the United States Postal Service to identify your lost mail item and take quick action.
After you filling "find my package request," form, it will send you a confirmation email. USPS will also keep posting you the periodic updates related to your search application. When they take action on your request, and if you are lucky enough and USPS finds your package or mail item, it will send the same to the given receiver's location.
NEXT STEP AFTER FILLING FORM:
There may be possibilities that USPS is unable to find your missing parcel. Sometimes when the USPS find your parcel item is not in a proper condition to forward, then also it does not recover the package. So in such cases, you have followed the steps given below:
CALL CUSTOMER SERVICE & Use live chat feature
You might be asking how do I talk to a real person at USPS?
Simple!
Call USPS in the case of a missing, lost or delayed package. The customer service representative will receive your call and record your concern. For that, you can call on 1-800-ASK-USPS or 1-800-275-8777. They will help you to find your lost mail.
The timing of Customer Service representative:
Monday to Friday: 8:00 a.m. to 8:30 p.m. ET
Saturday: 8:00 a.m. to 6:00 p.m. ET
Sundays and Holidays: Closed
If your USPS package missing says delivered on the tracking status, but you have not received it, you can follow the next step.
REQUEST FOR A REFUND using USPS customer service chat
If you have lost your package, then you can file a refund but note that the return not provided for every mail class. It is possible when you had booked your mail item with a service that gives a money-back guarantee then only you will be able to request a refund as Priority Mail Express comes with a money-back guarantee, and you can ask for the refund.
In the case of a package not delivered, to file a refund, you need to provide a proof of purchase with few other evidence as follows:
The Tracking number of the parcel
The Purchase receipt of the packet
Your Photo ID
You can demand a refund online by log-in into your USPS account, or also you can go to the post office and file refund. For file refund online first you need an account on USPS, so if you do not have then register for free. The business customers may file refunds online through BCG-Business Customer Gateway.
FILE A CLAIM:
What to do if your package gets stole? In such case, you can file for claim of your box if you never received the package. But it is possible to file a claim only when your parcel must have the insurance. It is advisable that the clients submit an immediate claim in case they have missing or damaged content. But in any other case, you must file the claim before 60 days from the date you have mailed your package to get your insurance claim amount.
You may file a claim for:
Cash on delivery items (15 to 60 Days)
Insured mail or Priority Mail (15 to 60 Days)
Registered Mail with postal insurance packages, etc. (15 to 60 Days)
Priority Mail Express items (7 to 60 Days)
To file a domestic claim, you need to give the following details:
Tracking number of the parcel: The tracking number of the package or mail is between 13 to 34 characters. The same mentioned in the following places:
Your online record
Mailing receipt
Sales receipt
The label of the package
Insurance Evidence:
The proof of insurance for the stolen or lost package can be one of these:
The outer packaging that displays sender's and addressee's name and address
The original mailing receipt which you have got at the time of mailing your package
Electronic online label record or a computer printout
Proof of Value:
The evidence of value must provide in the case of a stolen package which can be:
The receipt of sales
The credit card billing statement
An estimate of repair by a reputable dealer
The paid bill of sale
The printouts of the purchase done online that can help identify the seller and purchaser, description of items bought, the price paid, date of the transaction, and a declaration that the transaction status is complete.
The receipt of the costs due to the reconstruction of non-negotiable papers.
Proof of Damage:
Lastly, you have to show the evidence of damage. For that show the photos of the damage.
In circumstances of an international claim, the USPS handles it differently. The international claim will need assistance and coordination from the receiver country's post office. The international claim will have to be initiated by the U.S. based sender of the mail. Generally in such cases, what you get is the postage refund only.
CONCLUSION When USPS Package is Missing
It is all about the USPS package is missed/ Lost or Stolen. We hope you find all your answers. If you still have any doubts then use the comment box. Thank you for reading!