Free USPS Boxes are available to everyone – let me show you how. As one of the world's leading courier service companies, USPS (United States Postal Service) is always one step ahead in providing its customers with quick and cost-effective shipping. One way that they do this is by offering their customers free USPS Boxes which are very efficient for perfect packaging and ensuring an absolutely safe and secure way of transporting your items.
---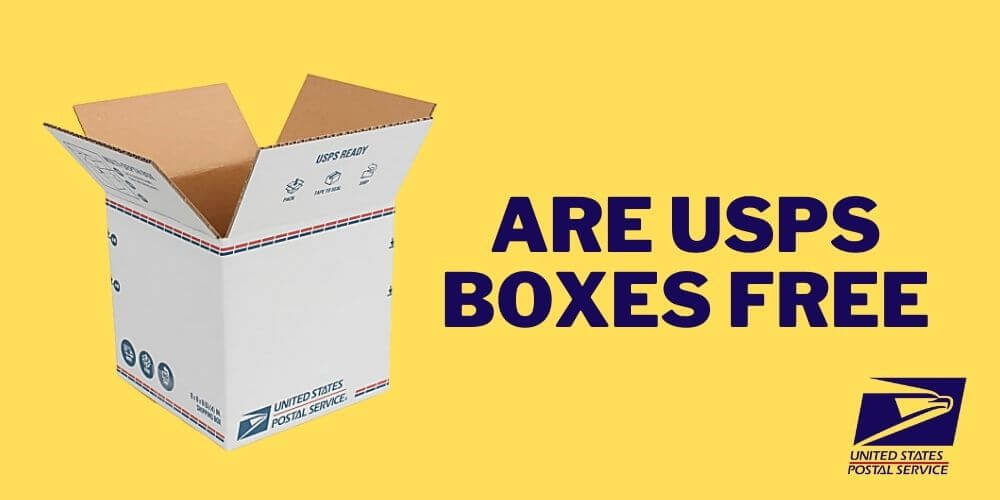 Can I Get Free USPS Boxes? 
Yes, the Free USPS boxes are available to customers. USPS boxes solve the issue of finding the perfect box to fit your items and they also allow you to save money on packaging. Besides providing an array of boxes, USPS also offers its customers a range of envelopes, stickers, forms, and many more for free.
The Free USPS boxes and shipping supplies can either be ordered for free via their official website or can be collected by visiting the Post Office directly. The pre-printed, eco-friendly free USPS boxes are available to all customers using the USPS Priority Mail or USPS Priority Mail Express services.
However, the brilliant service of USPS Boxes remains highly underutilized. This is either because most people don't know about it, or most likely because they are unsure about what they need to do in order to obtain them. That's why we designed this article to provide you with all the information you need to take full advantage of the Free USPS boxes the next time you use their service.
Let's jump into it!
How To Get Free USPS Boxes – Step By Step
Collecting your free USPS boxes and other shipping supplies is easier than you might think. All you need to do is follow the steps I've outlined below:
Step 1: Visit the USPS official website usps.com
Step 2: Choose the box that you need. This will depend on the shape and size of your item so you will need to measure it first.
Step 3: Decide whether you want the boxes in a pack of 10, a pack of 20, or a pack of 25. This will depend on their availability and your requirements.
Step 4: Add the items it to your shopping cart
Step 5: Select any other shipping supplies that you might need along with the free USPS boxes and keep adding them to your cart until you have everything that you need.
Step 6: Once you are done, go for the check-out option.
Step 7: Sign in to your account with the USPS or you can just check out as a Guest.
Step 8: Enter your contact information and your shipping address on the form provided.
Step 9: Review and confirm your order.
And with these simple steps, your order will be confirmed, and the free USPS boxes along with other important shipping supplies will be delivered to you completely free of cost.
For some people, a simpler way to get their Free USPS Boxes might be to pay a visit to a local post office and collect all your shipping supplies from there. 
What Other USPS Shipping Supplies Are Offered For Free?
Reducing the packaging charges to zero is a great advantage for e-commerce businesses such as eBay and Etsy sellers. Money saved on shipping charges can have a major impact on the overall profitability of a business. This is especially for those just starting out or with tight margins. And who doesn't like saving money anyways?
However, it is important to remember that not all USPS Boxes or other Shipping Supplies are available for free. USPS offers only the following supplies free of cost:
Priority Mail Boxes
Priority Mail Envelopes
Priority Mail Express Boxes
Priority Mail Express Envelopes
Registered Mail Envelopes
Global Express Guaranteed Envelopes
USPS Tracking labels
Ground Rules For Using The USPS Free Services
Use of the USPS service of free shipping supplies is very easy to do, extremely helpful to customers, and makes posting so much more cost-effective. It's worth noting, however, that there are a few ground rules that you should keep in mind. 
To use the free shipping supplies and USPS boxes, you need to mail your shipments using specific services like USPS Priority Mail.
If you pick a box or envelope from USPS, you cannot use it to ship through any other carrier. Conversely, you cannot use the free shipping supplies of any other carrier to ship your items with USPS.
USPS allows you to order up to 500 shipping boxes and labels at a time. And no matter how many you order, they will be delivered to you for free.
Try not to order more supplies than you need just because you are getting them for free.
If you decide that you don't want to use the free USPS Boxes, you naturally have the option to use your own preferred box and order a free USPS sticker to attach to it.
Items shipped with USPS Priority Mail need to use either a priority mailbox or at least a priority mail sticker attached to its box. This will indicate that the parcel is being shipped using the USPS Priority Mail and demands an urgent delivery.
Most of the free USPS boxes ordered online come in packs of 10, 20, or 25. You need to mention which format you prefer while placing your order. The quantity you select indicates the number of packs you want to order and not the number of boxes or envelopes.
The service level on the USPS box must match the shipping service used to ship the mail. For instance, you must use a Priority Mail box or envelope with USPS Priority Mail and a Priority Mail Express box or envelope with USPS Priority Mail Express. The USPS boxes cannot be used for first-class or Media Mail services.
I suggest that you do not trust any third-party website to order your USPS-specific boxes or other shipping supplies. Remember, no site is as reliable as the official website of the USPS. So, make sure you put all your online orders of shipping supplies on the USPS Website only, and the company will ensure that you get them on time and completely free of cost.
Conclusion:
The facility of offering USPS boxes and other shipping supplies free of cost is one of the best services offered by the world's leading postal service. It allows you to save a large amount of money while removing the worry of finding the perfect box to fit your items.
Both small and large enterprises as well as old and new e-commerce businesses find it the most cost-effective service to ship their products. And once you know your way around the USPS system and what is available to you for free you are sure to be a pro at using them for all your shipments.