This Article is about USPS personal vs business account. So if you've doubts regarding what to choose and what to not, then this article is for you only.

–USPS Point
Most people are aware of the benefits of having an account with USPS. But not many of us know about the scope of having a business account with them. You heard it right; the USPS is not merely about shipping packages from one person to another. It has got more to offer. Here we will be discussing USPS personal vs business account in detail.
Its services cover beyond our postal requirements. To business organizations and companies, a USPS business account can add a lot of benefits and value. 
Not very clear about the option of having a USPS business account? In this article, you will learn what it means and what more it has got to offer you beyond your account's benefits.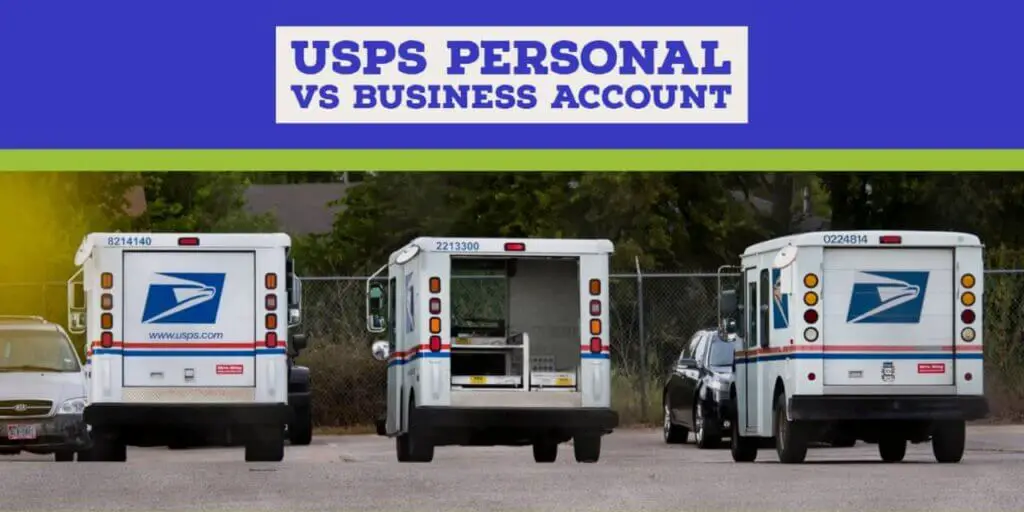 What is the USPS Business Account?
If you are a business organization or a large scale company, USPS has a fair offer for you. You create a business account for your company, and USPS provides substantially lower rates for bulk shipping services. 
The benefits do not end here. Besides a substantial cut on volume mailing services, USPS business account comes with lucrative additional services. With a USPS business account, a company can:
Print labels & track those easily
Opt for scheduling pick-ups
Execute targeted advertising campaigns
Directly derive marketing insights and tips from the process
How to Create a Business Account with USPS?
Wondering where to start from? You can simply change your existing personal USPS account to a business account. To create a new account, you need to land on "usps.com" and initiate the process. You will have to find and select the option "create a new account." 
The process is not time-consuming. It should ideally take ten to fifteen minutes at the most. Just take care of the details you are entering, and you go hassle-free your entire way!
USPS Personal vs Business Account: What to Choose
The 7 unique advantages of having a USPS business account than a personal one:
We have already discussed that the USPS is much more than shipping packages across places. The "USPS.com" website enables businesses to do many exciting activities other than just shipping goods. 
Here we talk about the seven exceptional value-added services businesses can enjoy with their USPS accounts. In fact we will try to end the USPS personal vs business account debate once and for all here.
Tracking Facility: 
The USPS tracking facility allows you to eliminate exasperating customer queries about the delivery of their packages. Here, with your business account, you can keep your customers updated with emails and SMS alerts. USPS enables sending notifications to customers on real-time delivery. 
Thus, customers get total clarity of the status of their package. They can easily keep track of their goods' position, movement, and progress without having to knock you repeatedly.
Insight-driven Marketing: Targeting Potential Customers:
USPS business presents a unique mapping tool that helps you reach your promotional marketing activities to potential customers. This online mapping tool surveys the statistics of active and prospective customers. 
Based on the statistics, you can plan and execute strategic marketing and promotional campaigns. The mapping tool gives you the necessary insight to set your target audience. 
Accordingly, you can plan your campaigns and create a stronger impact on a broader section of people. The best part of using this USPS tool is, it helps you to reach potential customers without purchasing any mailing database strategically.
Receive Your Mail, Wherever You Go:
USPS ensures what we could never imagine before "wherever you go, your mail follows." Now, with your USPS business account, you can move to any place in the world and receive your mail right there. All you need to do to get your mail at your current new location is, inform the post office about your relocating plans.
Scheduling Your Pick-up Right at Your Doorstep:
If you don't have the time to pick up your package from the post office, USPS has every fitting solution. With USPS, you get the leverage to schedule a free pick-up of your package. 
By opting for fast services like Priority Mail, your package reaches your doorstep on the due date and time. If you mention your holiday timings, you can also receive embellished postage boxes.
Create Labels Quickly:
Creating labels for individual packages and printing those consume a lot of time. USPS business account brings you a useful tool that enables you to print out labels for your goods quickly. The tool, Click-N-Ship, saves you the time and money to get your package labels. You can use it to print the labels at any place where you get a printer.
PayPal:
PayPal simplifies the paying chores for many business processes. Having a USPS business account, you will pay for the services you avail of through PayPal. PayPal lets you track your payment details for all services on an automated platform. 
It reduces manual involvement, eliminates paperwork, streamlines your payment processes, and enhances your overall experience.
Say Bye to Paperwork and Manual Processes:
Paperwork makes business processes cumbersome and troublesome. Keeping records of business operations and payments on papers give way to errors and loopholes. 
USPS business account helps you minimize human errors by introducing a fully automated process. The technology-enabled system automates the generation of custom forms, postage statements, and mailing labels.
Conclusion
After reading this article, business entrepreneurs who are yet to have their business accounts with USPS have known the significance of having one. Knowing the benefits and lucrative value-added services of a USPS business account, you will readily consider changing your account to a business one. 
The smart online tools on the USPS website are competent with the evolving trends of technology. You get to enjoy hassle-free communication with your customers, conduct strategic campaigning, streamline your shipping and payment procedures, and make an incredible customer experience.
So if you're in a dilemma between USPS personal vs business account, then just choose the later if you can afford and stay happy.