Want to Know About USPS Hold Mail Service online? USPS offers some services to its users and customers. One of the services of the U.S. postal service is the Hold mail service.
And this article will discuss with you all about what this service is exactly and how it works. We also discuss the things you must have to know before requesting the service. We also explain various methods of service in this article. From this, you have to select the one that suits you the most. So, be ready to know all about Hold Mail Services provided by USPS.
The first question comes to our mind that what is the service is about and how it is useful to its user then check the below. Shall we start?
USPS Hold Mail Service: All You Need to Know
Are you going on an official trip soon? Or are you planning an outing in the near upcoming? If yes then this service is for you. Whenever we plan an outstation visit, we usually relax or arrange a few things before going out of our home like packing, settling things or finishing an unfinished work, etc.
Similarly, we need to take care of the awaiting packages and mail so that we will not miss out on any critical letter when we are not at home.
Have you ever think when you are not at home and at that time the mails and packages that will be delivered to your home by the postal service, what will happen with them or who collect them? Thinking this may give you a little nervousness, but you do not have to worry when USPS and its various services are there for you.
Yes, one of the man services will come to help you once again! And this service is one of the most useful services provided by the US Postal Service: USPS Hold Mail Service online. USPS Mail Service is helpful to hold the packages, parcel, and mail until the suggested time. With this service, you can hold or pause your mail before going on the holidays or outings. Don't worry about the process of this service as it is quite easy to hold a mail.
In this way with this amenity, you will not face problems after coming to your vacations, and even during vacations, you need not worry about any important mail or packages and can enjoy your trip without mental stress. If you use this service, there will be zero chances of getting your mailbox of full mails after vacations or any loss of mail loss. Sometimes due to unpredictable weather like heavy rain or snowfall can destroy our emails by making them wet and we tend to a big loss regarding emails and information.
To prevent this situation, here are recommended some of the ideas which will be useful for you:
Before leaving your home, appeal to the neighbor to collect your mails and keep it secure with him or her until you get back
Keep a bigger mailbox.
Use the USPS Hold mail service and keep all of your mail on hold.
One of the above-recommended ways will surely solve your problem of receiving mail. It will be best to apply the third or last suggestion because using it all your emails remains safe and it is most suitable, and it is easy.
You can ask your neighbor also, but there may be chances that he/she may not at home as they are going somewhere due to some work so there may be chances to miss a mail. Even your mailbox is also working except for bad weather conditions, and the fact is you don't have any idea about it. So the best option is the last one.
THINGS TO UNDERSTAND BEFORE USING HOLD MAIL SERVICE:
If you have decided to use the USPS Hold Mail service to keep your mails and packages on hold by the United States Postal Service, then there are a few things you must keep in mind which are listed herewith:
1. Determine the duration of USPS Hold mail:
Firstly, you have to decide how long or what time should USPS hold the mail for you because it is essential to decide the hold period as per rules of rules. The postal service will hold your mail for a minimum of 3 days to a maximum of 30 days as per your request for a hold. For this period, the US Postal service does not charge any additional cost.
To make things more clear and perfect, you must mention the starting and ending date of your vacation to the USPS so that they consider that day to hold mail. These dates will take them and tell them that you don't want to receive any emails during that time. And between these dates, the postal service will not send you any mail at your address.
2. When should you submit the request?
Another important criterion is to finalize when and how should you tell the USPS that you wish to use their stop mail service. If you are enabling hold mail service over the phone or personally, then it takes a day to proceed with your request. If you request using an online way, you must do it before 2 AM CST. Then only they will process our request on the same day. So the time factor is also important while raising a request for the hold mail.
3. How to submit the hold mail request?
The last and the third thing on our list is that you must be sure of is to decide which method you are going to use for a file the request to get your mail on hold. There are four different methods available to request for this service. You must have to choose one of the methods to submit your request. If you know all of the methods, then it is well and good, but if you do not know the various methods of providing the hold mail request, then you don't have to bother because in this article we have covered the complete list of every method in detail for hold mail service request. Go through each one and update yourself:
METHODS TO HOLD YOUR MAILS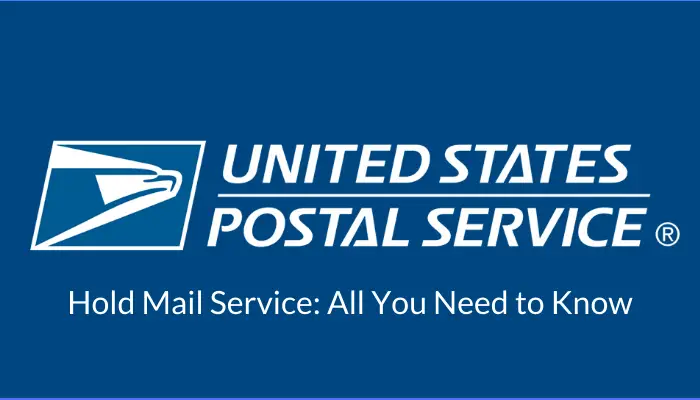 1. VISIT POST OFFICE:
The first method for raise US postal service hold mail is to visit your nearby local post office. As you go to your local post office, ask the related or designated person to give you PS Form 8076. This form is used by the customers to give application to the postal service that you are going out of station for a vacation or an official trip and hence you want to hold all of your mail. For that, you have to fill form 8076 with all necessary and correct details and information.
The information they needed is your name, your current address, the dates for the hold mail from start to end, etc. after finishing the form, at last, you have to do sign as well. Check all the filled information twice and also check they are completely correct. After verification gives it to a clerk. A clerk will give you a confirmation number. Keep this confirmation number safely, do not miss it because later on if you wish to change or edit the hold mail request, you will need that number for further procedure.
So, this is the easy way to set up the request for USPS hold mail service by visiting the Post office by yourself. But note that visits the post office during working hours, if you visit it on holiday or during lunchtime then either you have to wait for some time or go back to home. So you may end up wasting your time. If you don't want to fill your form at the post office, then you can fill it at home because the form is available online. You can download it from the link given below:
http://www.usa-federal-forms.com/usa-fedforms-usps-ps/usps-ps-8076-nonfillable.pdf
2. VIA PHONE:
If you don't want to fill up a form or don't have time to visit the post office then request for post office hold mail over a phone is a more convenient option for you. The phone is an easy and better way to book your request for the hold mail. What you have to do is just by making a call to the post office instead of personally visiting all the way to the post office. For the ease of the customers, they provided a toll-free "-800-" customer care number. You can call this number to hold your mail. Even you can call on this number for various facilities like mailing issues, track package, USPS mail tracking, or any other query, etc.
The entire nation can use this number for calling the customer care representative, but you can call them during working hours only and let them give all the necessary details that they are needed for the US mail vacation hold. The representative person will provide you a confirmation number. Again, keep this number safe with you and do not miss it because it will be useful in the future when you want to extend or reduce the period of this service. This method is a rapid way to request a USPS holiday hold.
The customer care number for the call is 1-800-275-8777 or 1-800-ASK-USPS.
Working Hours details are as follows:
Monday to Friday timings: 8 a.m. to 8:30 p.m. (ET)
Saturday timings: 8 a.m. to 6:00 p.m. (ET)
Sundays timings: Off
Holidays: Off
3. VIA ONLINE:
The online method is the most used method for customers. You can save your valuable time using this method. If you are in a hurry or have a time crisis, then you must have an option to this method only for requesting the post office hold mail service. To use this method you have to follow a few steps, do not worry because all the steps are understandable and it will not consume more of your time. In case if you have any doubts during the process then we are here to guide to at every step. So before you start going through every step one by one thoroughly as given below. What you need is just concentrate and follow the steps, and you can submit the Hold Mail request at United State Parcel Service in no time.
Here are the steps for the online method:
Step 1: Go to the main site of USPS:
The very first step is to log-in to the main or official website of the USPS. The official website is www.usps.com. Open it in a new tab. Now in one tab keep reading our guideline and in another tab open the official website.
Now on the main website find a hold mail, that is under the category of "Track & Manage." Once you find click on it. If you don't find this way then the same option you will find on the board of the "Quick Tools" category as well. You can proceed in this way also. You can also click here to go to the Hold Mail page:
Step 2: The second step will check if the Hold Mail service is available for your home:
To check that hold mail service is available at your address, you have to give some necessary information like the full address of your home, your first name, your last name, your email ID, etc. After you finish entering all this information in the respective boxes, you need to hit on the "Check Availability" tab. The postal service offers this service for the address of your home and not the person. So at a specific time, your home address can have only one hold mail order.
During providing information make sure that you enter all the information correctly. If you have entered your details correctly, then it will display the result successfully. In case you have entered any wrong information then also it will show a message on the screen. If your entered home address is eligible for hold mail service online, then it will display "Available." Below here is the image:
Unfortunately, if the service is not available at your address, then it will show a message like "Sorry, online hold mail requests aren't available for this address, but you can still request one at your local Post Office. Or, try another address." In the above case, you can visit the local post office, or you can give other addresses or information that indicates your address. At a post office, staff will assist you further and also tell you the different ways of using this facility.
Step 3: Mention the Hold Mail request dates:
Now as you are aware that the address of your home is available and valid for stop mail delivery, then you can proceed to the next part that mentioning dates. Note that if your address is available then only follow these steps. Because if your address is available, then it will automatically enable you to this step. Here you have to enter the start date, and end date of the hold mail service request. You can also select a delivery option for getting all your held mails after the ending date. To get your mail, there are two ways available. Either you can allow your letter carrier to send them to your address or you can collect all the held mail yourself. You are also allowed to enter some additional details like any suggestion or recommendation. Even if you can instruct postal service and for that, you have to write in blank space that not be of more than 255 characters.
Step 4: Submit the hold mail service request:
At last, this is the final step for USPS to hold mail service online. Now that you are done with the verification address, providing all the important details, it's time to cross-check them twice to correct an error or typographic mistake that you might make in a hurry. Once you check all the fields and sure about there is not any mistake, and you give all information best of your knowledge, just enter the "Submit" or "Schedule Hold Mail." As you do this, you have to wait until the site responds as successful in a few seconds.
After the completion of a process, you will receive a mail with all the details of the post office stop mail request that you have just submitted. They also send you a letter that is also confirming the detail that you have given during the online process.
This practice is to follow to avoid the chances when the person doesn't know that the stop my mail service is activated on his name for his address as occasionally somebody else raises the hold mail request on the main person's behalf and the main person don't have any idea all about it.
Hence, to confirm the same thing, the US postal service sends the email as well as the confirmation letter to the mentioned email and residence address. If you find any error or mistake somewhere in an email or letter, then you can modify or edit it by contacting the local post office.
4. THROUGH USPS MOBILE APP:
With modern technology USPS also keep its place with it. They also approach modern technology. Today we have smartphones and applications, and these two are enough for us to get any information or service. Hence, USPS also introduces a mobile app whose name is "USPS Mobile."
Anyone can download and install this app from the apple app store or google play store for free because the aim of making this app is to make things further easy for users and customers. This app lets you hold your mail even if you left your home already due to an emergency or other. Both the iOS and the Android users can use this app for various services like find the locations, track their packages, buy the stamps, change the current address to new, ship online, schedule hold for pick up, along with stop or hold mail delivery.
To download this app from the apple app store, go to the link given below:
https://itunes.apple.com/in/app/usps-mobile/id339597578?mt=8
To download this app from the google play store, go to the link given below:
https://play.google.com/store/apps/details?id=com.usps&hl=en
WHAT TO DO IF YOU WANT TO HOLD EMAIL FOR MORE THAN 30 DAYS?
What if you are going out of the country or town for more than zero days? Because as we said before USPS holds your mail or packages for a maximum of 30 days as per rules. So what happens when you know that you would need this service longer duration? So there is also the option if you want to hold your packages or mail for more than the maximum period that is 30 days. This service is named as "Premium Forwarding Service" available for its customers who are traveling out of town or country for more than 30 days. This service is a paid service. So if you want to hold your mail and packages for more than 30 days, you can get this chargeable service.
It is specially introduced for those users who are traveling up for months and years. The US Postal Service will keep your mail on hold, pack it, and mail it to your current location using Priority Mail service every week. A customer can use the Premium Forwarding Service for two weeks to twelve months. However, as of now, the Premium Forwarding Service Online option is not working for the Post Office Box address. It also provides forward mail services.
FAQs on USPS Hold Mail Service
How does one get their accumulated mail when my Mail Hold service ends?
During filling a form, there are two options available, and you can opt for any one of them to get your things. First, a carrier will deliver your mail items after the ending of the service, and another is you can pick your mail yourself from a local post office.
If you choose the first option that is carrier delivery, then your mail and packages will be sent to your residential address. In case no one is at home then they will drop it into a mailbox. If the accumulated mail is larger than your mailbox then the carrier person will leave a delivery notice and take it back to the post office.
If you pick the second option that is pick up your mail, then to get all your mail, you have to present at a post office with valid photo ID proof.
Regular mail delivery will resume the next working day once you pick up all your hold mail from the post office successfully. In any case, if your delivery remain paused then to resume it makes a call on 1-800-275-8777 or 1-800-ASK-USPS.
What to do if Hold Mail did not start or stop as Requested?
If the hold mail is not started or stopped, in this situation make a call to the customer care center during working hours. The working hours and customer care number are given as follow:
Customer care toll-free number:
1-800-ASK-USPS
1-800-275-8777
The working hours of customer representatives are:
Monday to Friday: 8:00 a.m. to 8:30 p.m. EST
Saturday: 8:00 a.m. to 6:00 p.m. EST
Sunday: Closed
Holidays: Closed
How one can know the Mail is Late or Missing?
If your mail item is not arrived by the expected delivery date, then your mail is missing. For confirming and further assistance you can call at 1-800-ASK-USPS (1-800-275-8777), or you can submit a search request for missing mail from the link. USPS does not give assurance for delivery times as due to many reasons like increased traffic, severe weather, increased volume of mail, natural disasters, etc. delivery could be late. If the situations are normal then all deliveries will be made by 5:00 p.m. local time.
Does USPS Deliver on Sunday?
Not all service deliver on Sunday but Amazon parcels and Priority Mail Express are delivered on Sunday.
What are the minimum / maximum lengths of time the Post Office will hold my mail? Or What are the Time Restrictions for Hold Mail?
The minimum time duration is 3 days and the maximum time is 30 days for hold mail service. If you want to extend the service then you can opt for Premium Forwarding Service.
Conclusion:
It is all about the USPS Hold mail service. After reading this article you may get an idea of what is the service is about and how many ways you can apply for this service. This service provides you the best. We hope you enjoy this service. If you like this article, then share it with your friends and family members to help them. If you have any doubts then ask it using the comment section. Share your opinions without a miss. Thank you for reading!