USPS is the largest independent postal service in the US. They offer a wide variety of postal services to people. One of the important services offered is USPS restricted delivery.
This service is meant for people who want to send their confidential documents with high security. If you want to know more about this special service, then you should read the post below.
What is USPS restricted delivery?
The USPS provides a special service called Restricted Delivery. This service is used by people who want to send confidential documents with high security. This also guarantees you that the mail will be delivered only to the mentioned addressee. 
This is a special postal service that is mainly made for sending sensitive mail such as important contracts, legal documents, and classified documents. It is also used for delivering high-value packages. 
To use this service, you need to make sure that the recipient ID himself before the USPS carrier delivers the mail. This also costs you more than other postal services offered by USPS. It will cost you $9 per mail that you want to send.
Also, this service is available only when you buy it in conjunction with Collect-On-Delivery, Certified Mail, Registered Mail, or USPS Insurance greater than $200. You can use this service even with Priority Mail, First-Class Mail, and Package Services.
| | |
| --- | --- |
| Service | Domestic weight restriction |
| First Class Mail | 13 oz |
| Priority | 70 lbs |
| Express | 70 lbs |
| Parcel select | 70 lbs |
| Library Mail | 70lbs |
| Media Mail | 70 lbs |
| Standard Mail | 70 lbs |
| | |
| --- | --- |
| Service | International Weight Restriction |
| International Priority Mail | 70 lbs |
| Priority Mail Flat Rate Envelope | 4 lbs |
| Small Flat Rate box  | 4 lbs |
| Medium Flat Rate Box  | 20 lbs |
| Large Flat Rate Box  | 64 oz |
| First-Class Package | 20 lbs |
| Express Mail | 70 lbs |
How does restricted delivery work?
To use the restricted delivery service, you need to tell the USPS authorized agent that you want to but this service. You can also mark your mail "Restricted Delivery" when giving it to the clerk. You should also check the USPS restricted items list to know about the items that you can mail through this service.
As already mentioned above, the item you mail will be delivered only to the delivery address. At the time of delivery, the recipient needs to show his ID proof for verification. In case, the person refuses to show his ID proof, the mail will be taken back to the post office.
Before you opt for this service, you should know that USPS Restricted Delivery doesn't offer the following facilities:
Fix Delivery Time
Fast Delivery
Signature receipt
Insurance against loss
Exceptions:
Here are some exceptions to the service that you should know about: When two names are written on the envelope or box, then the mail will be received only by any of these two agents.
In case, the mail is delivered to both the recipients jointly, then the signature by both persons is required.
If the mail is sent to a celebrity or some famous person, then it can be signed by the agent.
The agent is also allowed to receive the mail can receive the mail, if it is meant for a government official.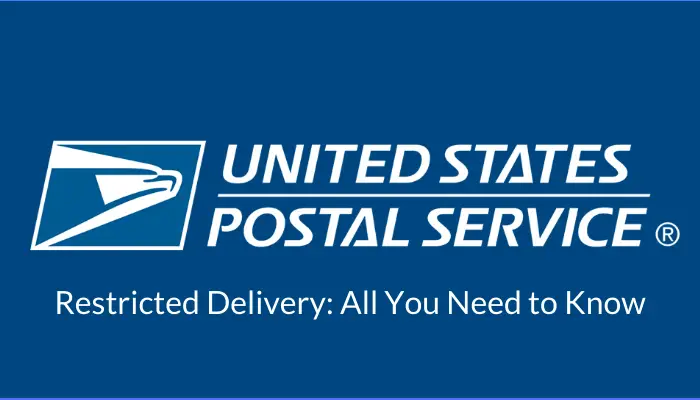 Parents or Guardians can also receive mail items. But this is only applicable when the addressee is a minor.
If the addressee lives under the care of another person, then that person can receive the mail.
Authorising A Person To Receive Restricted Delivery Mail
To make a person authorised to receive a restricted delivery mail item is not that difficult. It is a fairly simple process that you have to follow.
All you have to do is fill a Standing Delivery Order (PS Form 3801) or write a letter to the postmaster. After that, you need to submit the form at the post office. At the same time, you also need to check out USPS tracking Sunday delivery.
Restricted delivery service is a special type of service offered by USPS. If you want to send confidential documents with safety, then you can opt for this service.
USPS General Restrictions by Size:
Large Envelopes:  
While using a large envelope, the size restrictions of USPS must be considered. The envelope can maximize measure up to 15 x 12 x .75 inches.
Parcels:
If shipping a package, the parcel size can be a maximum of 3 X 6 X 1.4 (thickness).
USPS Shipping Restrictions for Priority Mail:
The domestic service extended by USPS is called Priority mail. The primary target of the service is to deliver the package between one-three business days. 
While using the Priority mail & Priority Mail Service service, the standard restrictions must be ensured. For instance, the parcel can measure 108 inches (combining the length and breadth) at the most. Additionally, the weight should not be more than 70 pounds. If using the Priority Flat Rate service, the shipment should easily fit in the box provided without any change or modification. 
As a rule of thumb, hazardous materials cannot be shipped using USPS. 
USPS Shipping Restrictions for First-Class Mail:
The First-Class mail service by USPS is the ideal way to send lightweight packages. As per the standard rule of the First-Class mail service, all large envelopes and parcels can weigh 13 oz at the most. However, if you are shipping software or buying postage online, the maximum weight can go up to 15.999 ounces. The maximum weight of letters under this service is 3.5 oz.
USPS Shipping Restrictions for Flat Rate mail:
The Flat Rate boxes are primarily used for economical shipping; thus it involves fewer restrictions. As mentioned above, the only rule to keep in mind while using this service is that the shipment should fit in the box provided for it to ship. 
While using this service, one does not have to go through any weighing or calculation of the box weights. All parcels should weigh under 70 pounds. 
USPS Restricted Items international and domestic:
The international shipping restriction extends to the following items:
Cigars
Medicine and drugs
Medical devices
Lithium batteries
It must be noted that USPS does not deliver to countries that OFAC sanctions. However, if deliveries have to be made in these countries, a special permit must be taken from OFAC. Besides, one must comply with all the USPS international shipping regulations and the destination country's regulations. There are many weight and package restrictions that vary from one country to another. 
To ship your package domestically, it must meet all the federal, local, and state restrictions. However, the restrictions for shipping packages domestically are far lower than international shipping. For instance, it's possible to ship perfumes containing alcohol domestically via ground. But specific rules and guidelines must be followed while shipping packages to California. 
USPS Prohibited Items international and domestic: 
USPS international shipping prohibits the shipping of the following items to all destinations:
Ammunition
Cigarettes
Fresh Fruits and Vegetables
Marijuana
Nail Polish
Alcohol-based perfume
Explosives
Dry Ice 
Airbags
Aerosols
Gasoline
Alcoholic beverages
Poison
Besides these, each country might have its import law with the US, prohibiting the import of certain other items. 
Domestic restrictions on shipping extend to:
Liquors
Knives and other sharp devices
Firearms
The master key to vehicles or locksmith devices
Powder, liquid, or any other form of odor-producing material
Drugs and other controlled substances
Construction materials
Cigarettes or tobacco
The list, however, is subject to change, and new items might be added. 
USPS Restricted Countries:
USPS shipping restriction by countries extends to:
The Central African Republic
The Democratic Republic of the Congo
Lebanon
Burundi
Sudan and Darfur
North Korea
Libya
Ukraine (Crimea) / Russia
The Balkans
Belarus
Cuba
Iran
Iraq
Nicaragua
Somalia
Yemen
Zimbabwe
Venezuela
Syria
South Sudan
Sudan and Darfur
Burundi
FAQs on USPS Restricted Delivery:
How to send certified mail with restricted delivery?
To authorize regular delivery of Restricted Delivery mail to an agent, the recipient needs to fill the PS Form 3801 or send a letter to the Postmaster at the local post office location.
What is a restricted address?
A restricted message means that your message will not be delivered to that address. In other words, the address has delivery restrictions.
What happens if my certified mail is not delivered?
The first attempt to deliver the mail will take place within three to five business days. You need to provide them the certified mail article number and also inform them that your letter is still pending delivery. In case, USPS is unable to find or Deliver your mail, you can request a refund.
When do you use restricted delivery?
If you want to send any confidential documents like legal papers, contracts, and others, then you can use USPS restricted delivery. This means that your mail will be delivered to the given address only. Also, the recipient has to show his ID proof to accept the item.