USPS offers several services such as Priority Mail, Priority Mail Express, Certified Mail, and Registered Mail through which we can send packages from one place to another. Another best service offered by the USPS is the Signature Confirmation Service. In this article, we will discuss the signature confirmation and how can we work out over this service and so on.
What Is Signature Confirmation?
---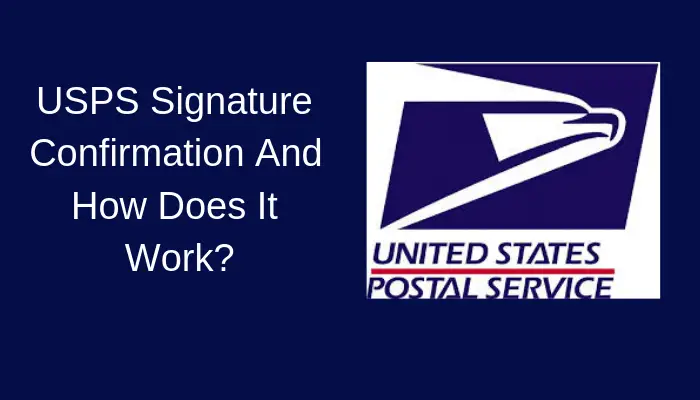 The USPS provides many service to their customers, and one of them is signature confirmation that need a signature of recipients when they get their package. The receiver must have to give his/her signature to receive the parcel.
The Signature Confirmation provides the following information about the packages:
Name of the recipient
The delivery date and the time of the package
The shipment location
The copy of the recipient's signature which can be faxed, mailed to you as per the request
USPS Signature Confirmation Cost:
The service costs $2.90 if you buy from a post office and if you opt for the electronic mode then it cost $2.45
The users can buy it with the help of the following mail classes:
Priority Mail
First Class Mail
USPS Retail Ground
Collect On Delivery
Media Mail
Registered Mail
Restricted Delivery (in case of COD, Registered Mail, or sum insured for more than $200)
Return Receipt(in case of COD, Registered Mail, or sum insured for more than $200)
How Does Signature Confirmation Works?
Signature Confirmation is very easy to use and buy. You can add this service at the time of the mailing. If you wish to send the package through the post office then you can buy the form at the post office, for the electronic mode you have to add it to your mail piece before you print your package.
The process goes on like this:
Step 1: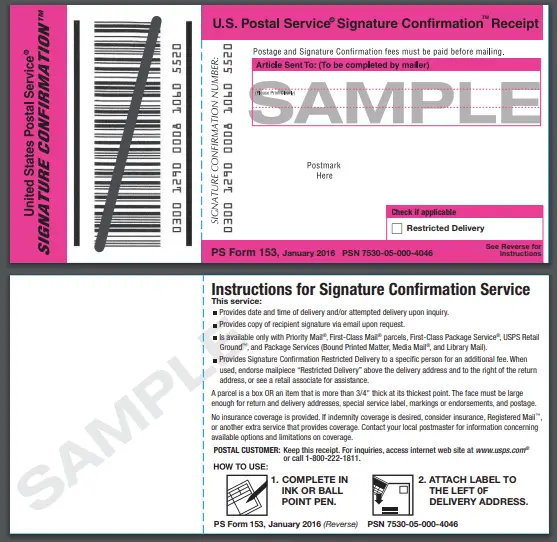 Step 2:
Attach the form barcoded level part to your mail.
Step 3:
Confirm the location where you wish to get a copy of the delivery record either by fax or by any alternative.
Step 4:
Step 5:
To aid you all we have provided the Form format check it once for further details.
USPS offers many services out of which the signature confirmation is said to be as the safety check up. Verification works as additional proof to say that the delivery of the package takes place safely.
Conclusion on USPS Signature Confirmation:
It is all about USPS Signature Confirmation. Hopefully, the information provided by us is sufficient and enough to solve your queries. But if in case you have any questions then either you can ask us or visit the official website of USPS for further help.