When you see USPS insufficient address it means you might have missed or mistaken some basic information when writing down or printing the address on your letter or parcel. It might be the zip code, apartment name, house number, name of the street, or lane that you have goofed up on.
Well, there can be other reasons also apart from just writing the address wrong. I have explored all the possibilities in detail below. 
USPS Insufficient Address: What are the Reasons?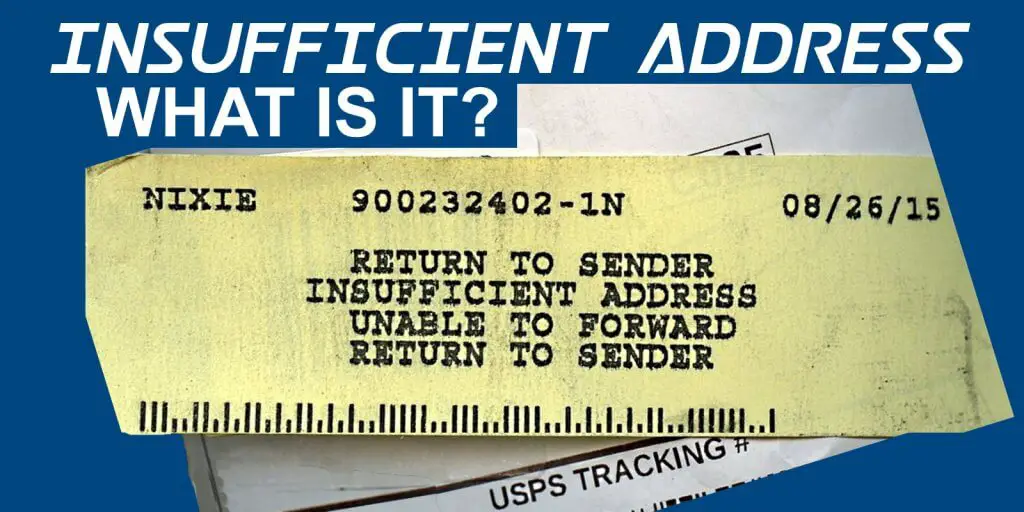 This message is frequently the result of an error on the side of either the recipient or the sender. The USPS worker may not be able to deliver the package to the correct address if the recipient has provided the wrong address or if the sender has overlooked something or spelled it incorrectly.
As a sender, it is always worth taking the time to double-check an address, use written tags, or take the time to type it down neatly and legibly. This lowers the chances of this USPS insufficient address happening and saves time and money.
Post carriers frequently appoint the rule of "returned to sender" to manage products that could not be dispatched. If an item cannot be delivered for whatever reason, it will be returned to the specified return address.
USPS Insufficient Address – From Sender's Perspective
There is insufficient postage on this item.
The addressee has changed addresses and has not provided a forwarding address.
The addressee refuses to accept the deliverables.
USPS Insufficient Address – From Recipient's Perspective
You are a USPS customer who has moved to a new place. For some reason, USPS has not yet updated your current location, and hence it has not been validated.
The mail reaches the postal address and is refused from that end. This might be the result of the addressee moving to a new location. The change of address was not updated, and the person at the old address refuses the mail.
Your USPS mail is falling short of postage. If the mail requires more postage to dispatch, USPS sends it back to the sender to claim back the extra postage amount.
The written address of the recipient is not legible. In such a case, if the USPS finds that the address is unreadable, it returns it to the sender.
What happens when USPS is unable to deliver a package?
When a USPS insufficient address occurs USPS sends the undelivered packages to its mail recovery center. If the sender's address is specified, the item with a USPS insufficient address will be sent back to its sender for correction.
What do I do if my package says USPS Insufficient Address?
How to fix the USPS insufficient address (From Sender's Perspective)
If your USPS package or mail is marked as UAA/Undeliverable as Addressed, you can search for it with the tracking number. You can then call 1-800-ASK-USPS (1-800-275-8777) to provide them with your correct information, e.g. name and delivery address.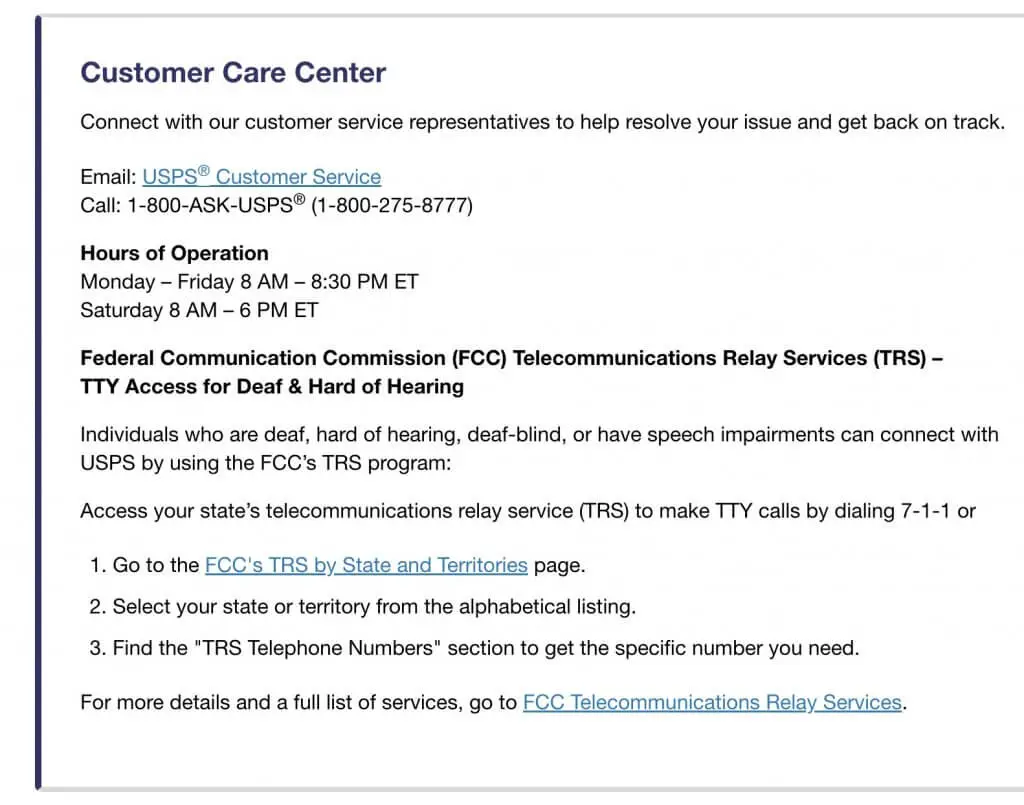 Visiting the post office to collect your post directly is also an option. But you can opt for visiting the post office only if it's within the same day you have received the UAA notification. It's a good idea to take a valid ID proof and tracking ID at the post office to recover your item as this is often required.
From Recipient's Perspective:  
If the mailpiece is addressed incorrectly and therefore has no return address, it will be dealt with by your nearest post office or sent to Atlanta's Mail Recovery Center.
You can visit your local post office to either see if they can either help you directly or point you in the right direction.
If a piece of USPS Marketing Mail cannot be delivered, it will not be automatically forwarded or returned. Catalogs, brochures, newsletters, and promotional mail are instances of marketing mail sent by USPS.
The endorsements on undeliverable USPS Marketing Mail items determine how the item is handled. USPS rejects the mailpiece if it does not have a testimonial.
If you are receiving a mailpiece that was intended for an earlier resident but you don't know their forwarding address you can just return it with a simple note "not at this address". Remember never to erase the address information and just give it back to your mail person.
How to Fix the "USPS Insufficient Address" Problem? 
One way we recommend helping avoid the USPS insufficient address issue is to cover the address label with clear tape so that even if the weather is damp, your written address will be protected from getting washed away or smudged. 
Always write down the address of the recipient clearly on the mailpiece. If you are not sure about the address it's worth checking with the recipient of your package to ensure that their postal address is valid and correct.
Double-checking addresses by both senders and receivers is the best approach to avoid this happening. If either party makes a mistake, the product will not arrive, so it's critical to double-check that directions are given properly and filled out correctly.
Keeping your address on a computer to easily copy it is a useful approach to avoid mistakes. Copying and printing the address should also aid senders. This makes it more difficult for information to be overlooked unintentionally.
Senders can also reduce the chance of making a mistake by checking the address they've been given online to ensure it's correct. They should check each address aloud again to ensure that it contains the essential information, such as:
Name of the recipient
Name and detailed address
A route or a street
A location
The state's two-letter abbreviation
A postal code
Even though not all addresses will use this exact format, the majority will, and if any of these bits of information is missing, USPS may be unable to deliver an item effectively. Check any address you write against the information above, and if you're not sure, ask your receiver.
It is preferable to postpone sending by one day to guarantee that the address is accurate and complete than to send a package with an incorrect address that will not arrive. Remember that if it is returned, you may be charged additional fees and the postage will have to be repaid.
If you can't print an address, make it as legible as possible by writing it in capital letters. Slowly write separating the letters to make them easier to read. It's better to avoid writing names and addresses in small letters.
All of these factors will help make sure that a shipment arrives in good condition and is delivered to the correct location.
USPS insufficient address but the address is correct: What can you do?
"There's a chance the carrier just read this as "USPS insufficient address" to stop the clock and hopes to ship it tomorrow" or "The address area of the label might have become broken in transit." So you need to contact the USPS office and ask them about this error. You can verify the address again with the nearest USPS office and they will help you out.
You need to put the label properly on the parcel box. If the address is not printed then try to write it in a capital case and cover the area with clear tape. That way you can protect it from getting damaged in transit or wiped away because of harsh weather.
How do I verify an address with USPS?
Address verification is chiefly crucial for companies that ship a lot of packages since it ensures that they have correct information on the contact lists, allowing them to deliver on time and save money on shipping. Otherwise, it would waste their time and money too as if the parcel is getting back to the sender the shipping charge will be doubled and the sender needs to reimburse it.
Individuals may want to double-check their address if they've just relocated or if their postal delivery has been disordered. Ask the recipient if their address is valid before you send the mailpiece.
While businesses with an extensive contact list would choose batch address verification software, private people seem to find the USPS address verification application to be more than enough.
How do I check a USPS Incomplete Address?
An inadequate address (or UAA) is defined by the USPS as an address that can either be written incompletely, contains the incorrect zip code or street name, or contains any other information that is judged inaccurate or ambiguous.
Validate the ZIP Codes on your list at www.usps.com. Use CASS-certified software to process your address list. Service for correcting address lists. You can send the Postal Service a copy of your list, and they will record any changes.
Place a search request through the Missing Mail app. Call 1-800-ASK-USPS (1-800-275-8777) to have a Consumer Affairs representative conduct a search request on your behalf.
How can I verify someone's mailing address?
If you need to check or verify an address in the United States, go to the USPS website and type in the address to acquire the complete ZIP code. 
To reach the "Search Up a ZIP Code" page on the USPS website, go to usps.com and click on the "quick tools" navigation bar.
An address verification (or verification) API will check if an address is in an official address database programmatically. If the address being validated is found to be "valid" in the authorized database, then it is used.
The advantage of using an API to verify addresses is that you can quickly check a large number of addresses. SmartyStreets can validate 100,000 addresses every second.
Each of these authorized databases includes the country's formally approved postal addresses. Many of these countries also provide API access to their databases.
USPS insufficient address redelivery: How to Do it?
If you missed any parcel and you want it to be redelivered to your address. You can use the barcode given on the backside of your PS form 3849, and USPS will redeliver it to you. you can schedule a Redelivery online.
Online redeliveries are available 24 hours a day, 7 days a week. If you want same-day Redelivery, make sure to submit your request by 2 a.m. CST Monday through Saturday, or your Redelivery will be booked for the following day.
Check to see if your address is eligible for Redelivery. But ensure the address must match the original address. Then you need to select the packages you want to get redelivered. Confirm selections for re-delivery.
How long does USPS hold insufficient addresses?
If you do not pick it up, a notification of non-delivery is placed in your mailbox, and soon afterward, a Final Notice is delivered to your home. Items are usually stored for 15 days before being delivered to the sender and labeled "unclaimed." If the mailer so desires, the item can be returned sooner.
How do I claim undelivered mail?
send a search request through the Missing Mail app.
Call 1-800-ASK-USPS (1-800-275-8777) to have a Consumer Affairs representative file a search request on your name, OR.
Make an appointment with your nearest USPS Post Office to submit a search request.
What does insufficient address unable to forward mean?
This is one of the most typical responses, indicating that the mailpiece's addressee has relocated or that the information does not meet the address on the item. This mailpiece cannot be forwarded for a variety of reasons.
After those ten days, your message will be forwarded or, if feasible, returned to the sender. The mail will be discarded if the USPS becomes unable to return or forward it.
How many times will USPS attempt delivery?
The time it takes the USPS to return mail to its sender is mostly determined by the services purchased for the mail item. Another thing to consider is the mail class chosen to send the parcel, as well as the mail services that determine delivery time.
Based on the carrier's expertise, the Postal Service (USPS) will make one or two delivery attempts. The parcel will be stored for 15 days after the initial delivery attempt before being returned to the sender.
You can set up your delivery options for a postal item using the USPS Delivery Instructions service before it is handled or dispatched.
Conclusion
Sending and receiving mail may be a pain, and if you've taken time off work only to have your letter returned due to "USPS insufficient address," you're probably frustrated. Fortunately, using a Virtual Mailbox from USPS may take the hassle out of mail delivery.
Even if you are not at home, this service assures that you're still ready to receive shipments. It makes it much easier for customers to have their mail delivered safely and without having to wait in line.