Have the USPS delivered to wrong address? Now, you have no idea how to fix things back? Misdeliveries are not common scenarios, but due to certain fallouts, USPS sometimes make such a mistake. 
It may be due to the delivery staff's mistake who either misspelled the address and dropped the parcel to someone else home or maybe due to some other consequences. Whatever may be why USPS always ensures their customers and business owners that every parcel will get recovered appropriately. 
We know how much panic this situation can bring to someone. Hence here are details to clear your doubts and what to do if you are in such a situation.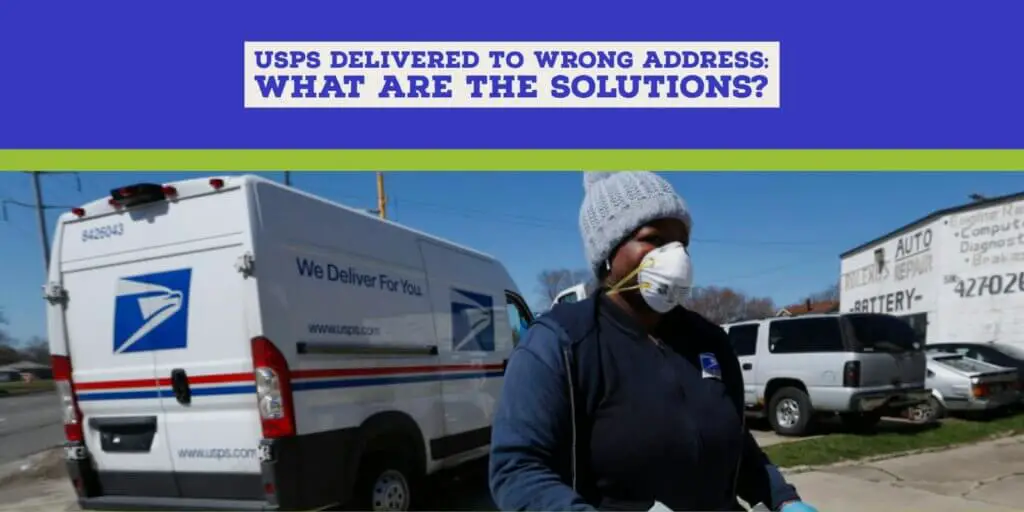 ---
USPS Delivered To Wrong Address: What are the Reasons?
There are several reasons associated with the misdelivery of a package or letter. Have a look at the points below to understand why such a situation arises?
Scenario 1:
Is your tracking status showing delivered even when you have not received any package? This may happen when the courier has marked it as "delivered" even before arriving at the place. This implies that your parcel is on the way.
Scenario 2: 
Have you recently tried changing the delivery address after placing an order? If yes, then the point that should be mentioned here is that the courier sometimes takes a longer time than expected to reroute the package. Again if you try to change the address when the package is on its way, may let the package get delivered to some other address. 
---
What to do if my parcel gets misplaced?
First, take a look around your home to be sure that the package is dropped somewhere unexpected. Check the doors and back doors well. Also, ask your neighbors to see if the package was left there instead. Still cannot find the package? Check online to confirm that you have given the right address at the time of placing an order. Make sure that there is no fault from your side before charging the courier system. 
Generally, the lost packages get delivered within a few days, if USPS delivered to wrong address. If USPS cannot locate the package after some days, they declare it as being lost. You can then be authorized to take any action, file a claim, and get a refund for the losses. USPS will ask for specific proof of the value of the content. Then they will examine the case and inform you of their final decision. They assure to do the best for their customers to get back the parcel. 
It may take a couple of days to bring it back, or sometimes it may take a while when the person who has mistakenly received your package is not willing to give it up. In case the shipping company faces a significant delay, they will ask you for money back on shipping costs. They will back the original value of the contents as well as the shipping amount that you paid. 
---
Use Tracking System To Keep Updates About Your USPS Package
USPS comes with an online tracking system that enables to track a package location and status. That means you will be able to know where your package is heading and when it is foreseen to come at your doorsteps. 
In case the status says that "Your Parcel Is Delivered," it means either it went to a wrong address or it is back at the post office. The best way is to keep checking the status from time to time until USPS delivers the package. 
When placing an order, the courier service offers you a tracking number through email or mailing receipt. You have to enter that number and keep proper tracking of the parcel to make the whole process quite worthwhile. 
---
USPS Delivered To Wrong Address: What if someone else's package is delivered to my address?
People often complain about receiving a parcel that has their address but not their name on it. If you have just moved to a new place, then there is a chance that the parcel belongs to the previous owner. Then you can simply ask the company to take the package back that probably belongs to the previous owner. 
If you stay there for a couple of years and such a situation arises, that indicates it got delivered mistakenly. USPS always recommends returning the package as it will help them to set things back on track quickly. 
They will know about the misplacement and will dig deeper into the case to find the right recipient. USPS strongly advises every customer not to keep a parcel with them if they are not meant to ship for you!
Things that you CAN DO if the package gets misplaced:
Keep updates from your local post office and also keep an eye on your mailbox
For international parcels, you have to contact the customs office and ask them about the updates of your delivery
Things that you should NOT DO if the package gets misplaced:
 Do not panic as USPS will either deliver your package within 2-3 days or refund your money spent
For international parcels, always contact customs instead of USPS 
---
The Bottom Line
If USPS Delivered To Wrong Address Mistakes are common things that may happen anytime, as these courier services are handling hundreds and thousands of deliveries every day. In the end, if all goes well, then you will receive the parcel as expected. 
Mostly there is a change of the parcel to be on its way to deliver the package. Always remember that delivery mistakes are never your fault. Follow all the rules and communicate with the USPS whenever you face a problem. 
USPS will take all their efforts to search and find your parcel. It may need some time, but they will make some way out for you. Other couriers such as UPS and FedEx may also face similar problems, and the solution for both of them is the same as USPS. 
Happy shipping!