One great thing about the American Mail system is that it provides you with detailed info about their Holiday closings and schedules. One can easily visit the official website and check whether they can be eligible to send a package or if their package will reach the concerned destination on holiday. 
We know that packages of any delivery services are all packed and stacked up due to the outbreak of the Coronavirus in recent times. But now, they are gearing up for their enhanced version of services even in the holiday season. 
But issues regarding supply chains and great labor shortages are still painting almost all services in the modern world. Therefore, shipment guarantee during the holidays is still a point of concern. Here in this article, we are going to find out whether USPS delivers on Christmas and New year events and figure out how their other closings, day-offs, and holidays. 
---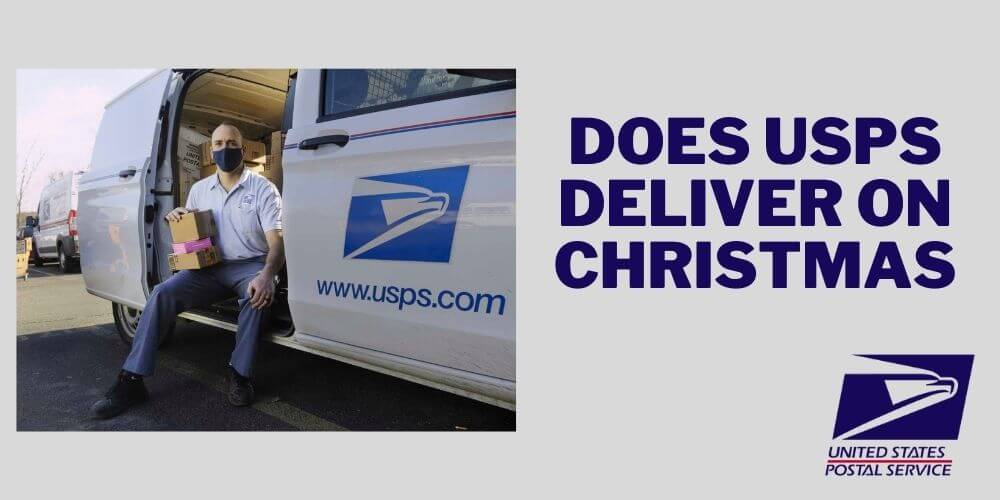 Does USPS deliver on Christmas? (Deadlines)
The beloved season of Christmas is around the corner, and we are sure that you are looking to ship some great gifts for your loved ones. But, is it possible to use USPS as your delivery service? Let us learn about it. For the United States Postal Service, the date finalized by their officials to send something (for Retail Ground Services only) is 15th December. 
However, if you are willing to spend a little more of it, the time extends a bit. The final date allotted for the first-class services is 17th December. If you try to initiate your shipping any day before the final dates, you can be a hundred percent sure that your packages will reach their destination well before Christmas. 
Do not worry if you have missed the last date of 17th December allotted for first-class mails. There is still a chance for you to ship your packages before Christmas via USPS's other priority services. But the thing is that it will end up costing you a good sum of money. The last of Priority Mail Service has the allotted date of 18th December. 
And finally, Priority Mail Express Services gives you a chance till 23rd December, which is just a couple of days before Christmas. But anyway, we will not advise you to go for the Priority Mail Express services as they are quite costly in the first place, and as the period is narrow (assuming that you have opted for it on the last date), your package might not reach by Christmas. 
The tracking system of the last two Priority services is extremely good, which is a very advantageous criterion for sure, and other than that, it gives your insurance and assurance of your packages. Needless to maintain, you get these extra facilities for the extra amount you had to pay. 
USPS Shipping Detailed Deadlines For International Packages And Military Mail 
Military Destination And Addresses
The international and military package services have completely different criteria of shipping and dates compared to the USPS domestic mail services. 
If you are looking to send a package to any military destination with an APO/FPO/DPO address, then you are better to do it even more quickly than the domestic services. For the first-class services for sending military destination packages, the last date is allotted 9th December. We should use the word 'was' by 9th December in this instance, as by the time you are reading it, it is already past that particular date. 
But, that is not all. If you require more time than 9th December, you have to opt for the Priority Mail Express services on military addresses. For that, the final date is 16th December; however, the services are not applicable for the locations in the United States. 
International Mailing Destination 
Dates for these segments are highly vulnerable. International shipping of packages depends on various external factors, and hence, the deadlines keep on varying from country to country. For the least expensive shipping options, the final date is 6th December, and then, for the costlier options, the final date is set at 13rd of December, for most of the locations. 
The final option when you are really running out of time, then you have to opt for the pretty Expensive Global Express Guaranteed Services, where the cut-off dates are set at 20th December to 22nd December. But anyway, things can run as smoothly as it seems in the last-minute services. There are various delays in customs and other potential issues. 
Christmas Evening Schedule As Issued By The USPS Website
Local Post Office Service Offers 
Most of the office hours regularly end on 24th December. With any prior emergency services, Christmas Eve is set to be a holiday for the Post office workers. 
If you want to check the Christmas hours for your concerned local post office, you can check it easily from the 'Find USPS locations' on the official website, entering the ZIP Code. 
Bulk mail entry services, for business criteria different criteria. You can also check that from the official website as well. We can not surely give you a date or something as it is different for different locations. 
All the regular emails are deliverable up to 24th December evening. Customers who have to pick up their mails later on 24th December will have to keep their name notified in their local post offices beforehand for smoother services. 
Conclusion on Does USPS deliver on Christmas?
There are three types of services, and USPS has set three kinds of official final dates for services during the Christmas holidays. The dates for different types of services in the domestic, military, and international services are different, as you can read in this article. Keep those dates in mind, and opt for your required service. USPS is a very trustable organization, and we are sure that they will not fail to make the Christmas of your loved one happy.