Want to refuse a USPS Package? then In today's article, we will share everything you need to know about refusing and returning a USPS parcel. Anyone receiving a USPS parcel has the right to refuse the parcel delivered to them.
USPS or the United States Postal Service is the leading postal delivery agency operating in the United States of America. Established in 1971, USPS has been delivering mail and packages across the country at the most reasonable prices.
USPS delivers more than a million packages per day, generating billions of revenue every year. But it is possible that among that million-plus deliveries, some people will receive the wrong parcel. Here we address the complete solution of dealing with a package that you don't want to accept.
Sometimes, it is likely that one needs to refuse their USPS package or return it. The refusal of acceptance could be due to any reasons, such as wrong parcel delivery, delivery of a canceled order, or delivery from an unknown person. So what should one do if they don't want to accept a USPS package? Is the refusal of parcels even allowed?
This option is available whether you are about to receive a package or one has already arrived at your doorsteps. Go through this article to know the procedure for three different scenarios.
How to refuse a USPS Package?
There are three different scenarios when it comes to the delivery of a parcel. Either you are about to receive it, the package has just arrived, or it has appeared in your absence. Read along to know how to handle each of these situations.
When the package is on its way to you:
In case you are about to receive a parcel through USPS that you don't want to accept, you can inform your post office about it. Contact the office responsible for the delivery and notify them that you don't want the package delivered to you. The post office will suspend the delivery process and return the goods to their sender.
When the package has reached your home:
When a USPS parcel has arrived at your door, you still have the right to refuse it. In such a situation, the delivery person will take the package back to the office and send it back to the person originating the delivery. But it's necessary to keep a few things in mind to refuse the acceptance of a parcel.
You must not sign the acknowledgement slip upon the delivery before inspecting the package. By signing the receipt, you confirm your acceptance, which makes the return not possible. There are also a few other instances when you can refuse a USPS parcel.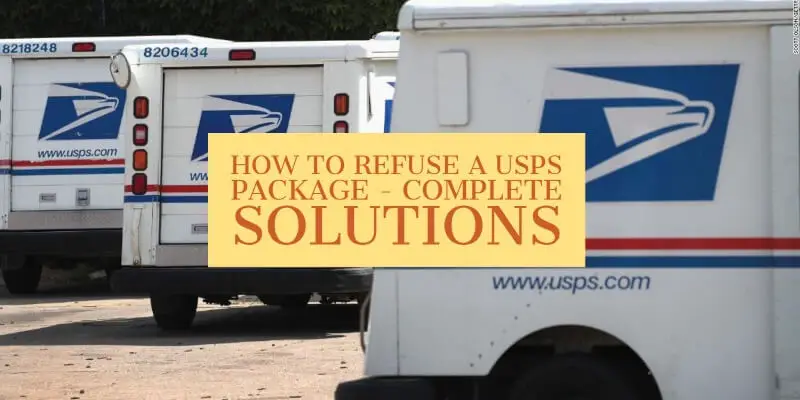 Here are the situations when you can reject a package addressed to you:
●  When the parcel is in a damaged condition, you have the right to reject it. It includes torn, broken, or otherwise manipulated packaging of the delivery.
●  When one or more items are missing from the parcel, you can refuse to accept it. It also applies when the package doesn't contain all the goods included in the consignment.
●  When the goods belong to a different person or address, you can refuse the delivery. Even when the goods are in your name but arrive at a location other than your current address, you can refuse them.
When the package has already delivered to you:
Sometimes a parcel gets delivered to your house in your absence. It is still possible to refuse the package that did not arrive in your presence. To refuse an already conveyed parcel, write the word 'REFUSED' on the box and keep it in your mailbox. Inform your mail carrier about the package and ask him to take it back and have it returned to the sender. It's important to note that you must not open the parcel, or else your refusal request will not be entertained.
Frequently Asked Questions on Refuse A USPS Package:
Here are some common questions that people have relating to the refusal of USPS packages:
Is there a time limit for returning goods that you previously received?
If you want to refuse a package that has arrived at your address, there is a specified period within which you should mark it 'Refused' and initiate the return process. This time limit is different for various categories of goods and also variable on the mode of delivery. The general time limit is 30 days but may vary for multiple delivery options offered by the USPS.
Do you need to pay any fee or charge for having the package sent back?
When you refuse a parcel received, there is no charge required to send the package back to its sender. But, if you have opened the received goods, you will not be able to avail of the free return to the sender policy. To return such a package, you will need to transfer the belongings into a new envelope and pay its postage charges.
Are there any goods that don't qualify for this refusal/return policy?
There are no such packages that you can not refuse to accept. However, some items do not qualify for the free return shipping to sender option. It means you will have to pay to have these mail packages returned to their sender. These items are:
 
●  Certified Mail, COD, Insured Mail, Registered Mail, Return Receipt for Merchandise Mail, or other signature mail are not eligible for free postal return.
●  Any response mail to sales announcement, promotion, solicitation, or other advertisements not refused at the time of offering also doesn't qualify for free return.
Conclusion:
In this article, we addressed all your doubts regarding package refusal and return. We have shared the complete procedure to refuse the delivery and acceptance of a parcel under various circumstances. So whether you are about to get an unwanted package or already received one, we got you covered.
We have also included information about the time limits, charges, and other relevant factors that need consideration at the time of refusal or return of a USPS package. So the next time you receive a parcel that you don't want, don't panic. Just follow the steps that we have mentioned above. We hope reading this article you know the correct procedure to refuse and return a USPS parcel.