If you decide to move and want to change your address to keep receiving your regular mails, USPS Movers Guide would be your service.
USPS Movers Guide comes with a complete package containing the Change of Address (COA) order form, necessary instructions, and important coupons or offers that you need to initiate the process.
You will be required to fill out the form to change your address while the coupons will help you get a discount. 
There is a lot that you need to keep in mind while moving to a new address. But keep your cool and follow our guidelines as I walk you through the entire process.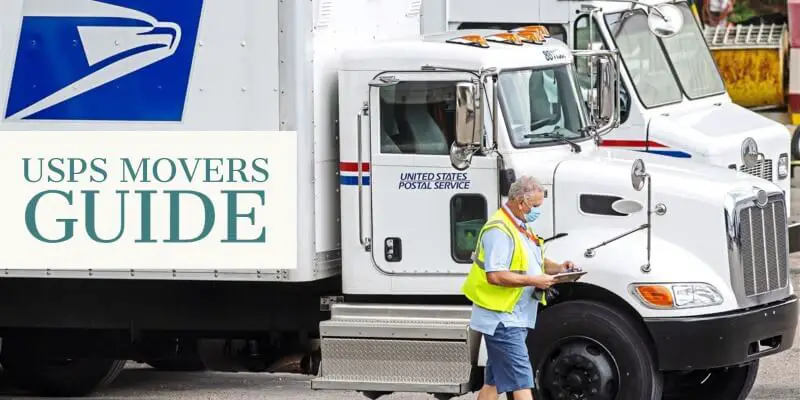 USPS Movers Guide in 2023: How to Change your Address?
There are three procedures by which you can initiate a change of address:
Filling out an online form
Over a phone call
Visiting the office
Let's now go into the details.
Filling out an Online Form
This is the most comfortable and most convenient option if you wish to save valuable time. For this, you will have to visit the official website of USPS and fill out a form requesting a change of address. Make sure you have your credit card or debit card with you, as USPS charges you for identity and address verification.
Over a Phone Call
This is also a pretty simpler process. You will have to give a call at 1-800-ASK-USPS and request them a change of address over the phone. Here too, you will have to pay an amount as verification fees.
Visiting the Office
If you have some time to spare, you can visit them personally. Visit your nearest post office and ask for the 3575 form. USPS waives off the verification fee if you choose to visit them in person to request a change of address.
Advantage if you Complete your COA Request Online?
Besides saving your time, there is one good benefit for you if you decide to complete your COA request online. USPS Movers Guide Online presents you with exclusive coupons and special offers. They are sure to help you to move and settle down comfortably in your new home. You can either print the offers or have them sent to your mobile phones as text messages.
Security Policy to Access USPS Movers Guide Online
You don't need to worry about the security of your information while filling out your form online. USPS has it all sorted. They are very keen on ensuring the security of the personal information of their customers. USPS has a strict security policy to prevent any fraudulent activities.
They use encrypted technology for their secure server.
They have methods to do credit or debit card address verification.
Moreover, a customer can submit their COA using a third address to validate. This allows the Move Validation Letter to arrive at the old address, provided there is at least 7 days before your shift.
So, it's completely safe to have your COA form filled over the internet and allow yourself to enjoy the benefits of the USPS Movers Guide online.
What would it cost you to get your COA form Submitted?
The USPS charges you $1.05 as identity verification fees if you fill out your COA form online. They electronically verify your card's number to the issuing bank when you enter your billing address and use your credit card or debit card to make the online payment. 
N.B.: Be aware of the third-party websites that can charge you as much as $40 or even more to get your COA submitted. Moreover, if anything turns out to be wrong in the process, USPS will obviously not take responsibility. So, it is always advisable to deal directly with USPS and access their services for your COA activities.
Change of Address Confirmation:
You are entitled to receive a COA confirmation after you complete all the necessary formalities to schedule the change of address.
Once everything gets confirmed, USPS will mail you a Move Validation Letter (MVL) to your old address to validate the move.
You will also receive a Customer Notification Letter (CNL) and a Welcome Kit at the new address you provided.
USPS will also send you a Confirmation Code.
If you submitted your COA request through the internet, you would also receive a COA confirmation via email containing your Confirmation Code.
N.B.: The Confirmation Code is vital if you wish to make any changes or cancel your COA request. So, you are required to keep it safe. Otherwise, you may have to head over to the Post Office to change or cancel your COA order. 
Change of Address for Different People of the Same House:
Two situations may arise in this case.
Your entire family is shifting with you: In this case, you can fill out one single COA form for all of them using the "family" option.
Some members are shifting with you, and some are staying back: In this case, you will have to fill out separate forms using the "individual" option for each person shifting with you.
How to Modify or Cancel a COA Request in 2023?
If you wish to make any changes, or entirely cancel your COA request, follow these steps:
Go to "Manage My Move" on the USPS official website
Enter your ZIP Code and Confirmation Code
Click "Submit"
Edit the COA fields which you wish to modify or cancel.
N.B.: Remember that you are allowed only 2 chances per day to edit. You will receive an error message if you exceed the number and wait for another 48 hours. However, you are allowed to request a cancellation even after you exceed your two chances.
USPS Movers Guide is available at every post office across the country. You can have it collected from your nearest post office or fill out the form online at your convenience. 
Just make sure you enter all your valuable information correctly, make the necessary payments, and deal with the USPS directly while initiating the process of changing your address.