Do you want to stop junk mails?
Most of us often receive emails from our beloved, officials and from some companies which offer discounts and loans.
Similarly, we also get some junk emails with which we get irritated and take several steps to stop them and ensure that the emails will not be repeated.
Even though we do many tricks and methods to stop getting emails as they can't be stopped. Junk mails often include emails regarding companies such as LIC, Bank offers Social media website as Amazon, Facebook, LinkedIn, and many more.
Most of us may doubt how can we stop receiving junk mails. We had also got many queries from all regarding this topic.
To aid you all and make your mailbox free from junk files we have come up with a new article. In today's article we all are going to discuss some of the methods and how can we stop receiving junk mails.
Before going to start our discussion about the topic let us know what a junk mail refer to.
What Is Junk Mail and How Does It Work?
As mentioned above, we receive many emails in a day out of which some are useful, and some are not. The emails with which we don't have any use are referred to as Junk Mails. They include credit cards, offers from some companies, catalogs, advertisements and so on.
The promoters and the marketers send those emails to us so that we can come to know about their discounts and buy them, but the fact which is going on is that we don't even open and check the emails sent by them.
Most of us may doubt how can we get these type of emails. Let us know how this works:
It's a simple process which can be understood very easily the fact is that we all may use services of different agencies, and companies which stores all your database which includes your contact details, mail ID's, address and so on.
If they desire to give you any message and reach your mail is a powerful tool for them. Let me explain you with an example:
If you have once brought any object or material from Amazon or any shopping service center, then from at that instance the service center will start sending you emails so that you can buy more stuff and they can gain profit.
USPS makes a huge revenue from these junk mails. Recently, USPS had made many changes last year. It made marketers and promoters to promote their products and services. Post officers also aid these people to get profit. Bulk makers also aid them by making a list of the addresses of the targets and the post officers aid them to make a list.
That's how Junk Mails will send it to all of us. But don't be tensed we can stop receiving these types of junk mils by following the above solutions.
How Do You Stop Junk Mails From Being Delivered?
As I said earlier, many ways are there to stop receiving junk mails. Here in this article I have mentioned several methods, read them and opt for the one which is suitable for your problem. The methods are as follows:
Stop All Unwanted Mailers:
We can stop all unwanted mailers by using some of the tips mentioned below.
Write an application form/a letter to Mailing Preference service (UK) or Mail Preference Service (US).
Anyone among us can write an application/letter to Mailing Preference Service (UK) or Mail Preference Service(US) and ask them to select your name among the list of the candidates who desire not to receive any junk mails.
After writing the application/letter and sending them, they will your name in the do-not-mail list. This method works excellently with only $1 amount, but online it's free. So use the online form and also the best part is Mailing Preference service (UK) doesn't charge any amount for the application form.
Avoid Giving/Placing your Details everywhere
If you wish not to receive any junk mails, then don't mention your address or any contact details on every survey, warranty cards, and in some raffles.
If in case they mention that the details are necessary then on that case add a caption "Neither sell/distribute information nor add to the mailing list." It makes you do not add your details on the list, and you may not receive any junk mails. The fact is when you add this caption the information later won't be passed to you. Also, try to eliminate your details from the county tax database.
Make sure that if you are using your emails for the business remind them earlier
People who are doing business through their emails can inform the Mailing Preference service (UK) at first only. We have to inform them while doing the first order or the first transaction. They won't add your name to the list. I think that this is the easiest to solve our problem of receiving junk mails.
Place No Junk Mail Sign: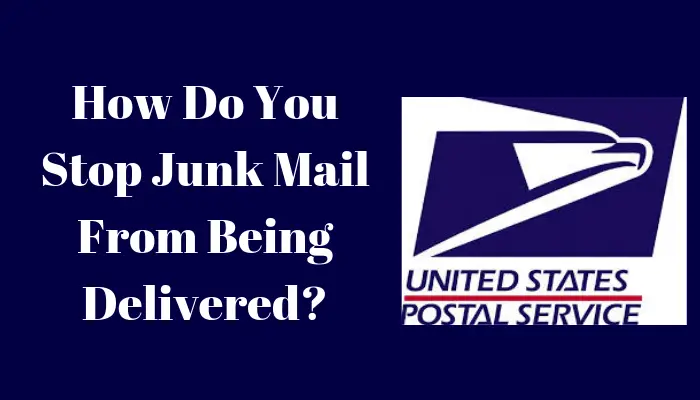 "No Junk Mail" caption will help one form not receiving any junk mails. You may also add "No free Papers" on your mail to reduce the junk mails up to some extent. Several companies hire candidates to transfer these type of junk emails to all of us. But once you make this sign, then no one has the right to send you emails as it is illegal. Only official mail will forward if "No Junk Mail" is mentioned at the mailbox or the doors.
Do contact junk mail senders individually and ask them to remove your name
We often receive some emails which won't be requested by us. If we observe, then we may get some contact details of the sender. We may also get the location and time at the mail. By using those details try to contact them by making an appropriate plan. Then ask them not to send you the junk mails. Convince them with appropriate reason and unsubscribe from the mail list.
Receive all bills and statements electronically
We often sign on many websites to purchase any materials. In that case, receive all bills and statements and make sure that you have signed up the website. At present most of the companies are providing this opportunity. Make use of it and do your works done easily.
Stop Mail Addressed to Someone else
Keep Current Address Always:
Most of the time we change the place which we are currently living. In that case, we have to ensure that the new address is given to USPS so that the mails and some important packages are delivered to the correct address. We have to fill an application form for the address change in USPS. If in a case still, you receive emails just simple message them that the address has been changed and make sure that the junk emails are not received.
Return the item to the Sender:
It may be common that we receive some emails by mistake if you found that the mail or any package which belongs to others has been delivered then, in that case, send the mail back to the sender. It can be done just by writing Return To Sender on the envelope and put it back in the mailbox.
Contact and report depths to the credit reporting agencies:
Report about the deaths to avoid possible identity theft. For it you need a copy of the death certificate to each of the following:
Experian P.O. Box 9530 Allen, TX 75013.
Equifax P.O. Box 105069 Atlanta, GA 3048
TransUnion P.O.Box6790 Fullerton, CA 92634.
Cancel Unwanted Catalogs:
Contact catalog companies or universities soliciting potential students:
Students often receive updates about every topic in their college life regarding studies, projects jobs, career guidance and so on. Students also receive many mail updates regarding recruitment. You have to stop them if you are not desired to receive any junk mails and can also the flyers. For this, do contact the university recruitment office or any head of the department by using the toll-free number or any separate number. Simply say them that you are not interested in those offers and also you are not able to attend the university.
Opt Out Line:
Junk Mail Opt out can be done easily. One can do it online as there are so many catalogs and mail -order companies which are offer opt cuts online. So, just need a website. Fill the form you are done.
Opt Out before it is sent:
We give information on many official websites like SAT, PSAT, ACT, etc. So, always read the form thoroughly before you enter the details. Make sure you are not allowing to receive any mail while filling any form.
Return To Sender
Sending the mail item that does not relate to you back aids one in not receiving junk mails. Read the following steps to know more about the depth and if you want to check a detailed guide then check here: How to Return USPS Package to Sender?
Use Return to Sender:
Leave the item unopened:
We often receive emails, letters from our relatives, similarly we receive junk emails from many companies. Whenever you receive such type of emails instead of opening them send it in return via post.
Write Return to Sender:
As mentioned above we often receive emails due to some problem in that case instead of opening and reading it write the note Return to Sender in Bold with the help of marker and return it to the sender. It makes us in not getting junk mails.
Mail it:
Simply mail it back to the sender without adding any file to it. The item should be placed back to the mailbox.
Write a Note:
If the above methods don't hold good then follow the above procedure as follows:
At first, we need to open the envelope and make sure that how many are useful and how many are junk among them. If in case you find lots of junk files then, in that case, differentiate junk and regular emails and follow the below procedure.
If it fails to write a note without using any abusive words and write the officials to write the name of the address and ask them to remove the name and not send any junk mails further.
Finally, prepare a note and send it in return to the sender.
Opt out of Credit Card Solicitations:
If you still doubt that how can we stop getting junk mails then you should also opt for credit card solicitations.
Initially, you have to find the reason why you are receiving the emails. Credit companies often purchase information from credit reporting agencies. So, the first step is that make sure that you don't receive any emails from the crediting agencies.
Do contact 1-888-5 Opt Out:
Dial the above number and listen to the options carefully. It consists of mainly four major crediting reporting agencies Equifax, Innovis, TransUnion, and Experian. With these steps, you can opt out for five years. If you desire you can opt out for the lifetime. If you want to request the online, then you can do so.
Ask the credit card companies to not to send cash advance checks:
Simply contact the credit card company agencies and ask them not to send any cash checks. This way you can stop receiving junk mails.
Reduce Phone Books:
We often receive many phone books opt for the best one and make sure that it fits you. Most of the phone books which you receive have opt-out pages online.
We can also for the desired one by simply going to the Yellow Pages Opt Out. At first, we have to create an account and select the one which we like most and neglect the rest.
You can also do the following things:
Write a letter to your local master and inform him/her about the problem and ask them to aid in not getting USPS junk mails. Also, ask them to pass your comment to the head or superior of the USPS.
You can also contact the number 800.275.8777/7 for junk mail removal.
Or you can also write a letter to the higher authorities and sent it to the following address shown:
Consumer Affairs Policy and Program Development
USPS-HQ
475 L'Enfant Plaza SW
WA DC 20260-0004.
Conclusion:
We all may have encountered many junk emails in our day to day life. One thing we all need to figure out is that no matter how many steps we follow we may still receive emails from the companies. In this article, I have mentioned a few steps and methods on how can we stop receiving them. I hope that the article was helpful to you all.