USPS Tracking Service offers you updates regarding the delivery status of packages that have been sent. However, certain terminology may be used regarding the tracking status that is unclear and may cause confusion with customers, who therefore find it difficult to understand what has happened to their packages.
One such tracking message is "Arrived at Hub." I have explained all about it in the below section. 
---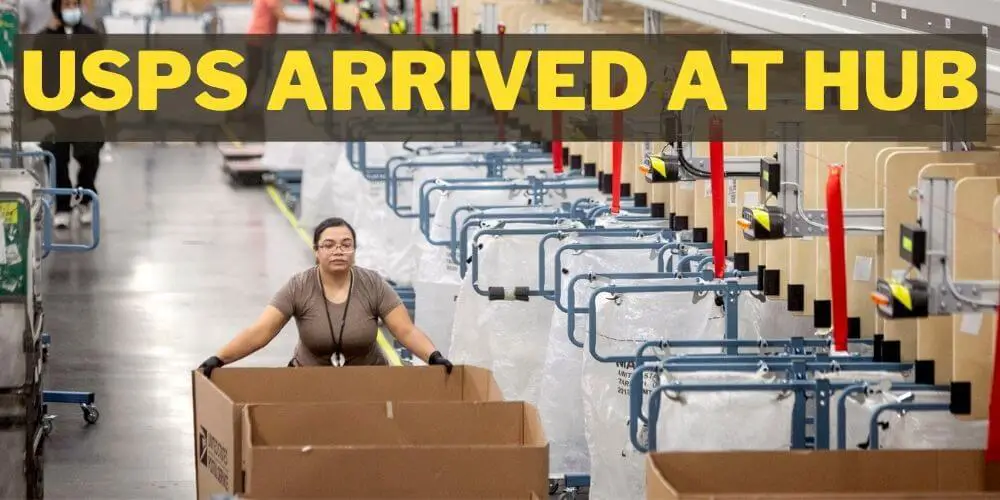 What is "USPS Arrived at Hub"?
USPS Arrived at Hub means that your package has arrived at the USPS Distribution Point, from where it will be sorted and sent to your address. Although the status does mean that your package is nearing delivery, it's not a sign that it will be dropped at your location within a few hours.
USPS Arrived at Hub status informs you that your parcel has reached the final sorting center and is waiting to be sorted along with hundred other items. Sorting the mail is a necessary step in ensuring that each item is streamed in the right direction and through the correct route, in a manner that is more efficient and cost-effective for the Postal Service and ultimately the person sending the item. Once the "hub" finishes with its sorting, the parcel will be sent off with a carrier to be taken to your house.
However, the USPS Arrived at Hub status doesn't indicate how long the process will take. This "Arrived at Hub" status may soon change to "Out for Delivery," or your package might stay in the hub for several days, depending on the workload at the distribution center. 
So, one thing is certain with "USPS Arrived at Hub": it's that your package is nearing delivery and will arrive at your doorstep soon. And that's exciting, even though you might not know exactly when that might be!
How Long Does a Package Stay at the USPS Hub?
This depends on the workload at the USPS Distribution Centre and the priority level of your package. Usually, it doesn't stay long at the USPS Hub and leaves the center when the sorting gets done. Still, there are certain (rare) horror stories where the package had stayed at the distribution hub for weeks before being delivered.
So, if you see the message "USPS Arrived at Hub" sitting on your delivery status for a long period, especially for an important parcel that requires urgent delivery, then do not hesitate to contact USPS. 
Make sure that you speak to an authorial person to find out exactly what happened to your package and why it is sitting so long at the hub with the USPS Arrived at Hub message. Ask them to check whether they have missed your package while sorting. 
However, you needn't worry much if your parcel is a priority package coming from some big retailer offering speedy shipping. In that case, the tracking status will be updated to "Out for Delivery" within 2-3 days of its arrival at the hub. 
But if it's a non-priority package, it might take a little longer than that. Still, there is nothing much to worry about if the update seems to take a bit of time. Wait for at least a week for the driver to arrive at your location.
The speed of the status updating from "Arrived at Hub" to "Out for Delivery" also depends on the backlog at the distribution hub, especially when people are more likely to send their gifts in parcels and the company struggles to cope. 
So, be a little considerate of the delays during the holidays since it's a time when they have too much workload, too short time, and too little workforce.
Where does the Parcel Go After Arriving at the Hub?
Usually, the USPS Hub is the final delivery station of the package before arriving at its ultimate destination. 
USPS Arrived at Hub means that your package has already reached the right state or area and needs to arrive at a specific locality. Your package has already been dropped at the USPS Hub along with other mails, and now the workers will work on sorting it according to the specific part of the address to reach the exact location.
And once that is done, the parcel will be handed over for its last journey to the local delivery driver, who will bring it straight to your house next.
What to Do if the Status is Stuck at Arrived at Hub?
Sometimes in very rare cases, you may find the delivery status stuck at the message "Arrived at Hub" without further updating. But it isn't something to panic about but to be aware of. 
There may be two possible reasons for this to happen. 
First, the parcel has fallen behind the vast pile of mail that arrived at the hub and hasn't been processed yet due to the backlog at the distribution center. This can be sorted by contacting the USPS and asking them to speed things up for you. 
Second, there was some mistake with the scanning, so the tracking status has failed to get updated to the next stage and is still showing "Arrived at Hub." It's possible that your package has already been sorted and has left the distribution center, but some technical errors might have prevented the information from updating. This means that the package might get delivered to you even when the message is stuck at "Arrived at Hub." 
In either of the cases, you are sure to end up getting your package delivered to you, that's for sure! Still, never ignore the persistent "Arrived at Hub" message on your tracking status and do something about it soon.
Conclusion:
This status of "USPS Arrived at Hub" means that your package is getting closer to its delivery. There is nothing to worry about regarding this message – it is a perfectly routine part of the delivery process.
All there is to do is to wait for its grand arrival at your doorstep. However, if the wait seems to be taking too long, you can always contact USPS, and they will help you sort everything out and get your package delivered.