USPS Change Address using the Mail Forwarding service is vital when you decide to move to a new location – even if this is only temporary. It's the only sure way you have to ensure that you keep receiving all your bills, letters, parcels, documents, and other important items. Did you know that every year thousands of people run into trouble with their bills and repayments because they didn't have USPS change address?
Even if your friends and relations know that you have moved to a new area you need to notify your bank, loan company, and insurers and then make sure that you actually receive everything that is sent to you. In order to avoid missing connecting with friends, family, and important companies, organizations, and services, it is very important that you update your address USPS Mail Forwarding. This is best done online – I'll show you how in a minute. It's by far the easiest way to avoid losing important mail and packages.
However, the process of setting up Mail Forwarding can get a little complicated if you aren't 100% sure of what you are doing. USPS doesn't always make it easy for you. I wrote this article to help you get this done as quickly and simply as possible.
---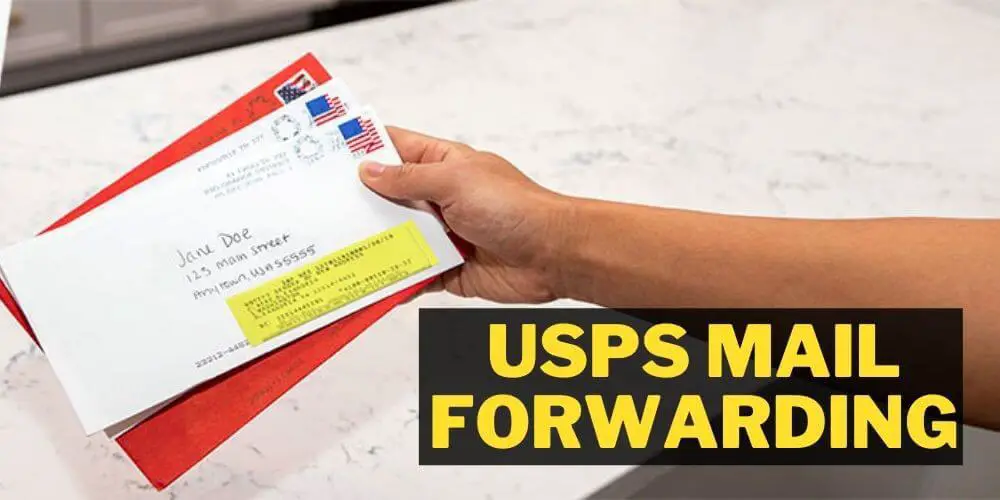 How Does USPS Mail Forwarding Work?
The first thing that you need to learn is how exactly USPS Mail Forwarding works. Here is a quick breakdown to walk you through the process:
The person moving (the mover) first fills out a USPS Change of Address form to update their address at the new location.
USPS will need to verify the mover's identity – this is usually done with your credit card.
Once the mover submits their form, they will receive a Move Validation Letter. This is sent to their current address as a way of confirming their request. When the Change of Address process is complete the mover a Customer Notification Letter (or a Welcome Kit) for their new address
The mover then chooses a date from which point USPS should start to forward the mail. The USPS begins to forward the mail sent to the previous address to the new address starting from that date. This is done until the mover sets an end date for this process or the time limit for the mail forwarding expires. This is usually when the mover is confident that everyone has their new address.
This is the standard mail forwarding service that USPS offers to all of its customers. Now, if anyone wants to have a move advanced set up then USPS offers customers a Premium Mail Forwarding service. This does however have an additional cost.
How Long Does USPS Mail Forwarding Work For?
You cannot keep forwarding your mail forever with the USPS Mail Forwarding service. There is a time limit: 2 months for periodicals (newspapers and magazines) and 12 months for all other important mails (First Class Mail, Priority Mail, Priority Mail Express, First-Class Package Services, USPS Retail Ground, Library Mail, Media Mail, etc.) 
After the forwarding period is over, USPS doesn't take responsibility for forwarding your mail anymore. So, you will have to make sure that you update everyone possible with your new address before the time runs out if you want to make sure that you continue receiving your mail from them. 
Mail Forwarding Extension Period
It may be possible for you to get an extension on the time limit depending on certain circumstances. USPS grants an extension on two conditions:
One: if the customer can show that they would face financial hardship if the mail forwarding is not extended;
Two: if the customer proves that reasonable efforts are being made on their part to notify their source of the new address.
Forms to Use for USPS Mail Forwarding
When setting up USPS Mail Forwarding it is important to know what form(s) need to be completed to ensure that this happens.
There are 3 types of Change of Address Forms that can be used and this is dependant upon the needs of each individual mover:
Individual: This form is used when only one person from a family is moving to a new location. If more than one person from the same household is moving to a different location or location, then they each have complete their own individual forms.  
Family: This form should be filled out when the entire family is moving to the same location. This will allow the post office to forward the whole family's mail to the new address.
Business: This form is to be used only when the mover is authorized to forward mail on behalf of the company or organization which has recently undergone relocation.
Where and How To Get a Change of Address Form
The form you will need is the PS 3575 Change of Address form. You can opt to get a hard copy from the post office or complete this online.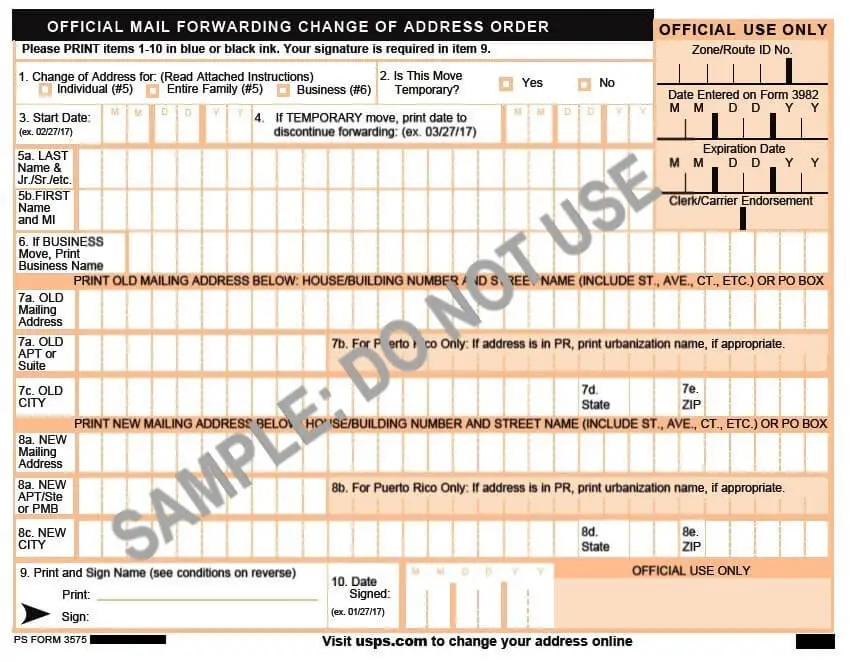 Cost of The USPS Mail Forwarding Service
Post Office: The cost of the USPS Mail Forwarding service via the PS 3575 form available offline at the post office is completely free. For offline form fill-up, there is no identification fee as the post office will automatically confirm your identity so do not make any additional charges. Just make sure to take your ID.
Online: However, if you want to use the online service then you will need to pay a $1.05 identification fee. This is done because USPS wants to ensure the validity of your identity, and that's why they use your credit card to confirm your identity for online applications.
How Long Does it Take for Mail Forwarding Requests to Process?
Once the USPS receives the request for forwarding your mail, it generally takes them approximately 7-10 business days to start the process. In reality, the process begins within 3 days of submitting your request, but it can take up to 7 days for its completion. 
I recommend being on the safe side and plan accordingly by submitting your request a minimum of 2-3 weeks before moving to a new location.
What Happens If You Don't Request USPS Mail Forwarding?
Not submitting a request for USPS Mail Forwarding when moving to a new address is something that you may well regret in the future when you don't receive those all-important items of mail. important mail.
If you don't notify USPS of your new address, then they will still collect your mail and store them for a maximum of 10 days. If they don't receive any response from you within that time, then will be returned to the sender. And if that isn't possible, then they would dispose of the items. 
Conclusion:
As you will have seen USPS make Mail Forwarding very easy and certainly an important process for those who don't want to miss out on their mail even when they change their address.
Considering that this is a relatively simple process, even the online application is super cheap too, then it would be foolish to ignore the need for mail forwarding. So, make sure that you make use of this when you move and they will take care of the rest. 
Friends and family may well want to send gifts to your new address. The USPS offers free shipping supplies. We show how to get them here.