It is becoming increasingly difficult to speak to companies. However, we have found that USPS Customer Service can be relatively easy to contact – you just need to know how. In this article, we show you the ways to contact them as well as discuss ways that they can help you to resolve any issues that you may be experiencing.
USPS is very efficient in dealing with customers who need their assistance and have developed efficient customer care services to help them in solving customer issues.
Before you consider contacting USPS Customer Service it might be worth checking out the USPS FAQ page. You might find the answer to your problem there. Here is the USPS FAQ Link.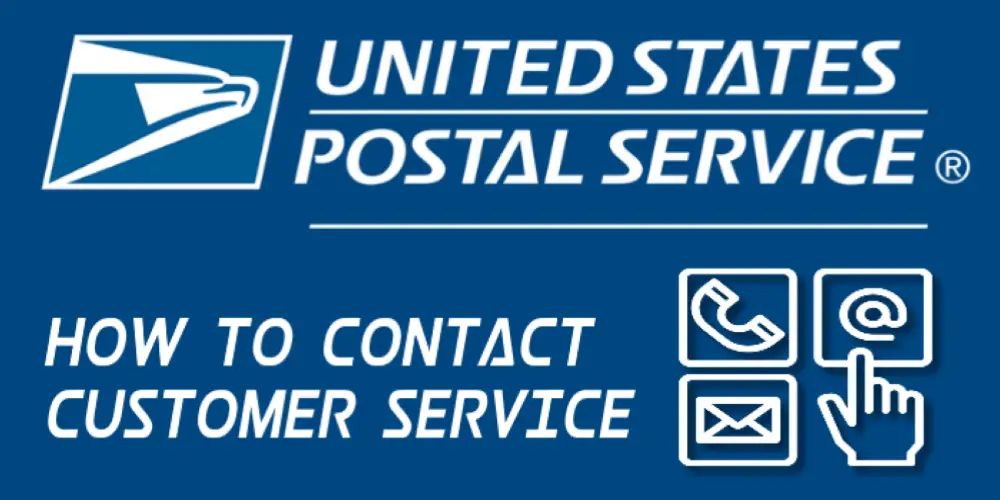 How do I contact USPS Customer Service?
Here are 3 ways to Connect to USPS Customer Service. Online, by Email, and by Phone.
USPS Customer Service Online: Contact Online Here
You can file a complaint or make an inquiry using the online form. This contact option is ideal if your issue isn't urgent or if you don't have the time to email or call.
USPS Customer Service Email: socialmedia@usps.gov
USPS Customer Service Number: 1-800-275-8777 or 1-800-222-1811
You can either dial 1-800-275-8777 or 1-800-222-1811 to speak to someone at USPS Customer Service.
USPS Customer Service – How To Speak To A Human
Now, you might not always get to speak to a real person when you dial the USPS customer care number. There may be a robot on the other side of the call asking you to press different numbers to file your complaint. However, there is a trick that you can apply to speak to a live person while contacting USPS Customer Service and chat direct.
Here is what you can do: 
Step 1: Dial the USPS Customer Service number and wait for the robotic voice to end its suggestions of pressing numbers. 
Step 2: The Bot will start reading out the available options from the automated main menu of customer services. 
Step 3: Say the word "Agent" before the system can finish listing all available options. This will force the system to ask you if you want to speak to an agent. Say "Yes," and you will immediately be connected to a human with whom you can talk. 
NB: If the system doesn't respond to your "Agent" word, try using full sentences like: "I would like to speak to an agent" or "I want to speak with a human being." This helps the system understand your instruction clearly, even if it misses the first few seconds of your statement.
What are the USPS Customer Service Opening Hours?
Customer support is available during the following times:
Monday-Friday: 8 AM-8:30 PM EST
Saturday- 8AM-6PM EST
Sunday remains a holiday and is Closed
Public Holidays – Closed
How do I file a complaint with USPS Customer Service? 
To file a complaint with USPS, follow the steps given below:
Step 1: First, keep all the specific details of the complaint handy. It will help you be prepared to provide them with any information regarding your issue, that they might ask from you while filing your complaint.
Step 2: Visit the USPS official website. 
Step 3: Browse the form available there for the customers to ask questions or submit complaints. 
Step 4: Start filling out the form by providing all the details that the complaint requires. You can also add additional information if you think it's necessary. Also, remember to provide your tracking number if that has something to do with your issue.
Step 5: Once you have completed the online form, select the way that you would prefer to receive your USPS response: via email or phone. 
Step 6: Submit the form and wait for USPS Customer Service to respond and solve your issue. 
If you do not want to fill out the online form, then we suggest that call the USPS Customer Service directly at 1-800-ASK-USPS or 1-800-275-8777. To speak to USPS Customer Service Human then follow the steps we show you above.
How to Contact USPS Customer Service for a Lost Package
When asking if it is possible to contact USPS about a package then there are three ways that you can do this.
1. Check the Current Status of the Package:
Before you dive in and start searching for your package, make sure that you check for its current status. Use the tracking number to locate your parcel via the USPS Tracking Service or call customer care and ask them to do it for you. NB. Doing it yourself will be far quicker.
2. Complete a USPS Help Request Form:
If you can't track your package with the tracking number and the person at the USPS Customer Service cannot update you with its current location, consider following this step. USPS allows you to fill out an online Help Request Form. As soon as the USPS receives this form, they will forward your request to the local Post Office, who will then help you locate your missing package. You should do this before moving on to the next step.
3. Submit the Missing Mail Search Request:
This is the last resort for the customer to contact USPS Customer Service about a lost package. We recommend that you wait at least 7 days after the submission of the Help Request Form before doing this. If your package doesn't arrive still and the Post Office cannot update you with its current location, then opt for this option.
To submit your Missing Mail Search Request, you need to provide USPS Customer Service with the following information:
Mailing Address of the Sender and Recipient
Shape, Size and Type of the box or envelope used
The Tracking Number of the package
Mailing date and label of the parcel
Description of the item contained in the package: brand, model, color, size, etc.
Pictures that could help in the identification of the parcel
Any other additional information that would help USPS recognize the package or the items inside it
Who to call at USPS Customer Service if my mail is not being delivered?
If you are at a complete loss as to why our mail is not being delivered, then go to USPS Official Website and choose the tab "Where is My Package" or "Where is My Mail." If that doesn't help, dial 1-800-275-8777 and speak directly with a customer care service provider to know what is causing the problem and learn how to solve it. 
Misconduct and Foul Play
If you believe that there might be some kind of misconduct and that a postal employee or contractor might be involved, then you can simply file a complaint regarding the same at their hotline number 1-800-275-8777. However, before you complain about anyone, in particular, make sure that you are certain about the foul play.
If you think that the problem lies with the delivery person, it is best to contact the local Post Office. Just give them a call or visit them and ask what is preventing them from delivering your mail.
If you think that someone who doesn't work for USPS has stolen your package or at least has something to do with your mail not being delivered, then you can report it at USPS by dialing (877) 876-2455.
REFUNDS
Priority Mail Service Refunds
If you are not completely satisfied with the service provided it is possible to receive a full refund for Priority Mail Services. Note that this must be done within 30 days of your initial purchase.
The only way that you can do this is by visiting the nearest post office to initiate the refund process. You may make use of the USPS online locator on their website to find the closest post office.
International Priority Mail Service Refunds
In case of International priority mail refunds, you may contact the Toll-free USPS customer service chat support.
| | |
| --- | --- |
| USPS Tracking Customer Care Toll-Free | 1-800-222-1811 |
Shipping Label Refunds
If you require a refund for unused shipping labels, you can get a full refund within 30 days of their print date. To do so, just log in to a Click-N-Ship portal and cancel your order.
If the print date is more than 30 days, but less than 60 days then contact USPS tech support to cancel the order. To do this you will need your username, account number, label number, transaction number, and date ready before making a call.
| | |
| --- | --- |
| USPS Tech-support on the website | 1-(800)-344-7779 |
| Tech-support email | uspstechnicalsupport@mailps.custhelp.com |
PO Box Returns
PO Box returns are made instantly done if the user is in possession of the keys via a USPS account. For those without PO Box keys, you will need to call the USPS Customer Care Number or email tech support for initiating the refund request.
| | |
| --- | --- |
| USPS Customer Care Number | 1-800-275-8777 |
| Tech-support email | uspstechnicalsupport@mailps.custhelp.com |
In-store Refunds
If you have made in-store purchases and want to return it, then this can only be done through the nearest Post Office and not online. You will need your purchase receipt as proof so that you can get a refund. It is also worth checking the USPS return and exchange policies.
Refunds for Missing Mail and Packages
If you were expecting to receive an item of mail or package and seven days have passed from the estimated date it should have been delivered, you can lodge a missing mail search request via the online form. It is only applicable to Priority Mail services.
Here you will have to furnish the following information: tracking phone number, Sender address, Receipt Address, Type of shipment, and a description of the package contents.
Domestic Claim Request
Filing claims for domestic shipments are made through USPS online claims form account. The following details need to be submitted to get the refund on your shipment successfully.
Shipment tracking number,
Date of Shipment
Reason for filing a claim.
You will need to submit proof of the value of the delivery to get the refund amount, in case the shipment is damaged or lost. The proof may be in the form of a purchase receipt, etc. A total of 10 items can be added per claim.
International Claim Request
Here the process gets a little more complicated as the search involves coordination with International Postal Services. It is to be noted that only the US sender can initiate this process. The procedure to fill in a claim request is the same as that of the domestic mail claim.
The Detailed United States Postal Services Grievances Contact List:
USPS Customer Service Contact List
| | |
| --- | --- |
| Customer Care Number | 1 800 275 8777 |
| Tech-support on website | 1 800 344 7779 |
| Facilities Access and Shipment Tracking (FAST) | 877 569 6614 |
| United States Postal Services Facilities Access and Shipment Tracking (FAST) email | fast@usps.gov |
| Electronic Mail Tracking & Reporting | 800 238 3150 |
| United States Postal Services Confirm email | confirm@email.usps.gov |
| Entry Information email | entryinf@email.usps.gov |
| Parcel Select Ground Performance | 877 264 9693 |
| Postal One Customer Care Number |  800  522 9085 |
| United States Postal Services Postal One Care Email | postalone@email.usps.gov |
| The United States Postal Services Stamp Now (For Large Businesses) | 1 800 782 6724 |
| United States Postal Services Stamp Now Email | StampsNow.info@usps.gov |
Does the post office take complaints seriously?
USPS takes customer complaints very seriously. Their Customer Care Services are very strong and efficient in resolving any issues faced by their customers. That is why it is vital that you provide them with all the necessary information while filing your complaint.
Submit Feedback to USPS
You can even comment or submit your suggestions on your experience with USPS. To do so, visit their official website and fill in the feedback form.
Alternatively, if you wish to get a return call from the live person from USPS, a similar request can be submitted through this feedback form. The form shall only collect your necessary contact information such as name, contact number, and email.
How to Write To USPS
If you still believe in mailing letters physically to resolve your complaints and some other matter regarding it, you are free to drop a mail at :
United States Postal Service/ Office of the Consumer Advocate/
475 L'Enfant Plaza SW,
RM, 4541/ Washington, DC 20260-2200. 
I hope you liked this article on USPS customer service complaints, email, live chat, and tracking phone numbers. If so, please share on social media and with friends.