USPS self-service kiosks are becoming more popular these days and that too for all the good reasons. In comparison to the old full-service counter, USPS kiosks any day serve as a better option. USPS self-service kiosks are helpful machines that make things easier for you. Instead of waiting in line, you can mail your parcel via a kiosk.
It provides you with plenty of benefits and this is the reason why their numbers have increased more in recent years. Today, we have over 3000 USPS self-service kiosks all across the country. They provide non-stop functions all day long. The best thing about using these kiosks is that you don't have to pay any extra charges.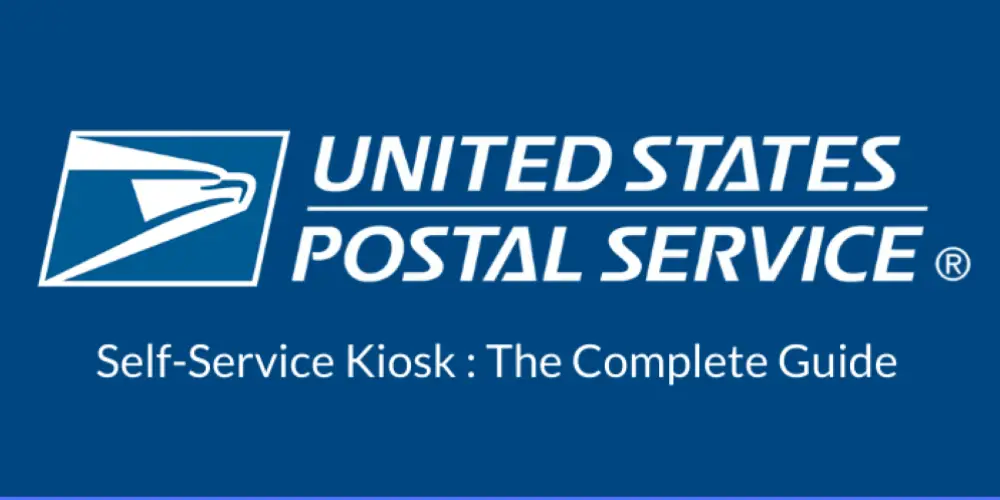 WHAT CAN YOU DO AT USPS SELF-SERVICE KIOSK?
You'll find that the kiosk will save you timer at the Post Office but it will very much depend what you want to do. Here are a few of the key tasks that you can do with the kiosk:
Print Priority Mail Express forms.
Compare shipping options in terms of their price and the delivery times they offer.
Buy insurance, signature confirmation, return receipts, and delivery confirmations.
Look up a ZIP code.
Renew a PO box.
Print a receipt with a USPS tracking number.
Weigh a package for later mailing.
IS THERE A USPS SELF-SERVICE KIOSK NEAR ME?
You can use a USPS Self-Service Kiosk Locator to find one near your house.
In the drop-down list under "Location Types" select "Self-Service Kiosks".
In the blank field under "City and State, or ZIP Code™", fill in your city and state or just your ZIP Code.
In the drop-down list under "Within", select how far you are willing to go to get to a self-service kiosk. You will still be able to find self-service kiosks closer to that maximum range.
Click on the "Search" button and you will see a list of Postal Service facilities with kiosks closest to the location that you entered.
USPS SELF-SERVICE KIOSK HOURS
Self-service kiosks are available at NEARLY 3,000 locations nationwide and most are open 24 hours, 7 days per week. There are no extra fees to use the USPS kiosks.
You will find these kiosks inside the Post Office. They offer several benefits to customers and have been designed to give you a better service experience. The kiosks can provide you variety of postal products and services.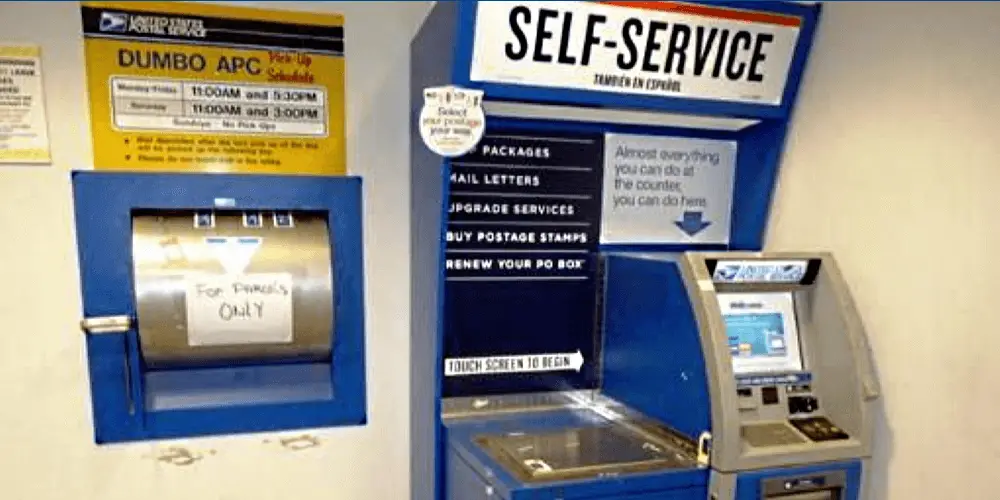 SO HOW DO YOU USE THE USPS KIOSK? USER GUIDE
Using the kiosk for the first time can be a little daunting but, is straight forward. We've laid out a step-by-step guide to using below.
If you need Priority Mail and Priority Mail Express packaging, then this should be available near the kiosk. It is also possible to pre-order this online. By the way there is a useful ruler running around 2 sides of the scales so you can measure your packages.
To Start: Place your item on the scale and touch the screen
Select the service that you want and answer the questions on the screen about your item
Choose your mail type – Priority Mail, Package or Letter
Answer the questions on the screen about your item
The machine will weigh your item
Enter the Zip Code you are posting to and select delivery address
Select the mail class that you want
Add any extra services you require and Click on Buy Postage
Select your label size
Cart Screen – you can check out here or add more items
If you have multiple items, you will have to repeat the steps above
Once done you can Check Out and Pay
It will then print your postage label(s)
For multiple items – make sure you put the correct label on the corresponding parcel
We suggest doing this each time a label is printed – details of the label being printed each time will be on the screen
When printing finished click on screen to confirm finished
You will get a receipt – this shows tracking details – if you use priority
Put letters through the letter box by the kiosk or packages through the pull-down package drop (it will show on the screen a picture of this and where it is located). And your done!
Why should you use USPS self-service kiosks?
USPS self-service kiosks are also called The Automated Postal Center. This new technology has been introduced as an alternative to the full-service counter for customers. This not only helps in reducing lines, and provides a quicker service but it also eliminates the need for personnel for interactions.
User Friendly Interface
The best thing about these kiosks is that you can interact with the machines using a PIN pad and touch screen. They come with easy to use interface so that you find it easier to use.
It allows customers to rate and weigh letters, parcels, and flats. You can also get different rates of postage in any denomination you need. Along with that you also get the chance to buy and activate Signature Confirmation, Delivery Confirmation, Insurance, and Return Receipt services. 
You can also get your Express Mail forms printed by these kiosks. You need to use your credit or debit card to use these machines. If you are wondering whether does USPS self-service kiosk takes cash, then the answer is no.
Features
The USPS self-service kiosk comes with many new and improved features.
ADVANCED TECHNOLOGY: This machine can detect the exact weight of your mail piece. All you have to do is place your item on the scale and you will get to see the exact weight on the screen.
SCANNER AND BLUE LIGHT: These kiosks are also equipped with a blue light that alerts you that there exists an alert system on that kiosk. Along with that, you also get the facility of a scanner with every kiosk.
CAMERA: Every kiosk comes with a camera fitted in it. This allows you to talk to the employees directly. This way they can solve your problems and queries much faster.
ONE OUTPUT BIN: Every kiosk is equipped with just one output bin. This bin is used for postage and comes with many labels that show at the time when an item is dispensed. This lets you know that the operation is successful.
FAQs
Can you send all types of mail via a USPS kiosk?
You cannot send items that require special handling. Also, the item you are sending shouldn't be more than 12".
Can I mail items that require Special Handling?
You will not be able to mail packages that require special handling. This includes fragile packages and packages that need special transportation.
When can I use the kiosk?
Most are open 24 hours, 7 days per week.
How do I find a kiosk near me?
Does a USPS kiosk accept cash?
No, a USPS kiosk machine doesn't accept cash. It accepts only debit and credit cards.
Can I use USPS self-service kiosk for International Shipping?
Yes you can use it to send your items overseas.
What is the benefit of using a USPS kiosk?
By using a USPS kiosk, you don't have to wait in the line like in the case of a full-service counter. A kiosk is faster and better.
Do you have to pay extra charges to use a USPS kiosk?
No, you don't have to pay any extra charges to use a USPS kiosk. This makes it even more popular among users.
Is there a size and weight limit on packages that can be mailed using the kiosk?
You cannot mail anything that has is bigger than 12".
Where are the kiosks located?
You will find these kiosks inside the Post Office.