In this article we have addressed the UPS vs USPS debate in a detailed manner so that you can get a better idea on what to pick in which scenario.
Where exactly does UPS vary from USPS? Well, this is a common question that arises while comparing both the courier services. Although they have the same motto, the operation processes are quite different. 
On the one hand, The United States Postal Service, i.e., USPS, also called Post Office, aims to deliver postal services all across The US, including both domestic and international products. The USPS was established in 1971 and is based in Washington DC. 
On the other hand, United Parcel Service (UPS) is a multinational package delivery and supply chain management company.  It was established in 1907 based in Sandy Springs, Georgia.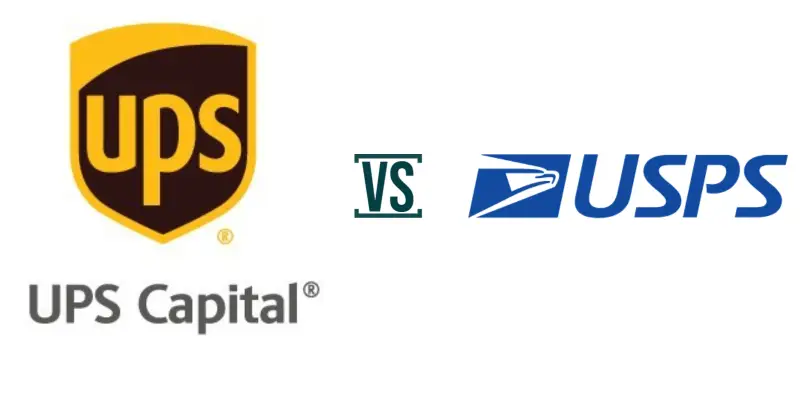 USPS, FedEx, and UPS are the three most widely accepted delivery couriers that fit perfectly for small and medium businesses in the US and abroad. They follow mainly three criteria: quickness, reliability, and affordability. Seems confusing? 
In this article, we have provided all the details offered by these services and discussed exactly where they differ from one another. This will help you to get which platforms are best suited for your eCommerce business, and you will get clarity on the infamous debate i.e. UPS vs USPS. 
UPS vs USPS: A Comprehensive Comparison
Depending on what kind of shipment you want to make these courier services offer Have a look at the points mentioned below:
If you are looking to ship a small package that weighs less than 13 lbs, then UPSP is a better option. UPS, on the other hand, is better for larger and enormous packages. 
USPS is also faster due to its strict rules, and UPS, on the other side is a more achievable option.
UPS comes with a tracking system that helps companies to track their shipments both domestic and international. 
USPS and UPS both do not have any free Saturday shipping delivery
Budget
Budget is something that eCommerce platforms should bother about while shipping through USPS and UPS. Look below to find the difference between their rate, time, and others. This will help you to determine which services suit you the most. 
UPS has certain fees and surcharges that make this courier service a bit more costly than USPS, especially for smaller packages. USPS offers reliable rates for smaller packages less than 2-3 lbs. In comparison, UPS is a better option for shipping larger and heavier packages.
Time Variation Between UPS and USPS?
Delivery timing and speed are important factors, especially for this platform. USPS, as mentioned above, has some strict rules and regulations that lead it to reach a place within a stipulated period. 
UPS, on the other side, may take a little more time to reach a place. Both UPS and USPS offer overnight delivery services also. It is indeed an important factor in this UPS vs USPS comparison.
Priority Services
Both the courier companies provide some of the best services to help their users. It's an important factor to add in this UPS vs USPS article. First, we will discuss the UPS, as there are an array of services that it offers to fulfill user requirements: 
UPS Express Critical
This is UPS 'fastest shipping option that is available all across the year. Users find this service to be the best shipping service with timely delivery. The one backdrop is its price. This service is quite expensive compared to other services offered by UPS. 
UPS 2nd Day and UPS 3rd Day Select
The shipment which is not very essential generally opt for this service. 2nd Day signifies the second upcoming business day and the 3rd is the third upcoming business day. 
UPS Next Day Air
This service is famous for its next-day delivery service as the package is estimated to reach a place after 4 pm local time with its early and saver options. 
USPS comes with several services to help eCommerce businesses and customers. 
Priority Mail Express
The fastest service offered by USPS is the packages are delivered overnight. 
Retail Ground
There is no time consciousness to the delivery as this service is for oversized packages at a pocket-friendly rate.
First Class Mail
This is for a single envelope or small package that weighs less than 13lbs. It reaches the destination within one to three business days. 
This is a special service offered by USPS to send media and educational video and audio files. Shippers follow certain rules and regulations about the type of media that you can send. 
Difference between UPS Ground and USPS Priority? 
UPS Ground and USPS Priority are the two most important and famous services all across the nation and abroad. Certain features make these services so popular. Have a look at them, 
USPS offers a package tracking system that enhances the reliability of both customers and business owners. To grow the reputation that somewhere fell a bit in the past has now introduced improved tracking methods. UPS always had a good reputation for delivering and tracking packages. 
USPS Priority mail is faster than UPS Ground, as it takes two or three business days to deliver a product, and the latter may take one-two week. USPS Priority is a bit more pocket-friendly than UPS Ground and also provides flat rate boxes that allow carrying several items at one time. 
What are the advantages and disadvantages? 
There are certain advantages and disadvantages that these services have. Have a look at some of them to consider. 
Advantages and disadvantages of UPS
| | |
| --- | --- |
| Advantages | Disadvantages |
| Famous for its easy and secure delivery | No free pick up services |
| Quite durable for heavy packages | No Saturday delivery for the regular service |
| Offers same-day delivery services |   |
| Have an outstanding tracking system |   |
| Comes with guarantee |   |
Advantages and disadvantages of USPS
| | |
| --- | --- |
| Advantages | Disadvantages |
| Perfectly suits small packages | Is a bit slower than UPS |
| Delivers on time packages | A bit expensive and is not found everywhere |
| Offers flat-rate boxes making it a cost-effective option for both customers and business owners |   |
| Free packing materials are available |   |
| Precise tracking methods |   |
The Bottom Line
We know that people face difficulties, especially when they are new to shipping while choosing UPS and USPS. Both the USPS and UPS services are great from their standpoint. 
We hope the points mentioned above will help you choose the appropriate one and settle the UPS vs USPS debate for now. Evaluate all the points starting from advantages, disadvantages, price, time, and others before choosing what's best for your eCommerce business. 
Happy Shipping!