Whenever it comes to tracking shipments correctly and frequently, the US Postal Service has improved significantly. Not to mention providing their customers with considerably more complete and precise information.
However, some of the tracking status updates – such as "USPS Delivered to Agent" notifications, for example – are difficult to comprehend. We'll go over what this particular information means, what it indicates to you about your shipment and how near it is to reach its final destination, and what you need to do – if something – to ensure that your delivery reaches precisely when you expected it to.
What does USPS delivered to agent actually mean?
Every day thousands of items of mail and parcels are handled by USPS. There is always a chance that the recipient may not be present to receive the parcel, at the time of delivery. In that case, an authorized person or a family member is allowed to take the package. This is when your tracking status says USPS delivered to agent Nordstrom.
But there are times when the parcel is not delivered to the recipient or an authorized person, but it still shows delivered to the agent. This can be confusing. You should know that anyone who accepts the mail on behalf of you is an agent.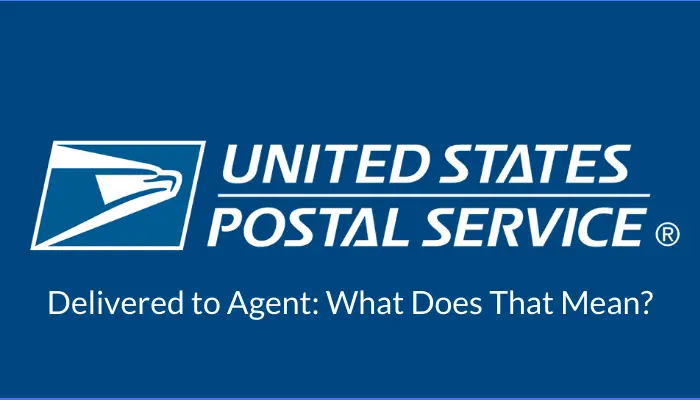 Let's say, none of your family members have received the package. Instead, your neighbor has accepted the parcel. In this case, the status will show delivered to the agent. Your mail can also be accepted by the local postal service in which case, you will be shown the same status. But there is nothing to worry about, as you will get your parcel from them.
Delivered to agent for final delivery but not delivered: what to do
You can check on the status of your package at any time to see where it is or if it has become stopped in transit. These are the tracking options that are available:
To get started, go to the USPS official website and enter your tracking number. If you don't have the tracking number, contact the shipper and request that they deliver it to you.
Download the official USPS mobile app from the Google Play Store or the Apple App Store. You can use it at any time to track your package.
 Call 1-800-222-1811 and inquire about your package's whereabouts.
Send a text message to the number 28777 with your tracking number.
Check how to track your packages with tracking numbers from here.
The Problem With USPS Delivered To Agent
There are some drawbacks to this system that you should know about. For example, USPS can hand over your parcel to any person who claims to be your family member. If anything of that sort happens to your parcel, then you can end up losing it.
They don't have any process of verification involved. In other words, the USPS final delivery agent doesn't ask for any ID proof from an agent. So anybody can take advantage of this. Let's say, you are to receive any important documents like a debit card or legal papers.
If they are delivered to some unknown agent, then you will end up losing your important documents. This is why it is better to stay available at the time of delivery.
The Good Side Of USPS Delivered To Agent
The good news is that USPS delivery staff are not that irresponsible. They don't just hand over the parcel to anyone. They do it, only when they trust the agent. Therefore, the chances of any such incident happening are very less.
USPS Delivered to Agent is not always a bad idea. When you are not available to receive your package, this option comes in handy as your family member or friend can receive it on your behalf.
What to do when a parcel takes too long?
In case, your parcel is delayed way too much, then it's time to contact USPS or related authorities.
The first thing you need to do is contact people in your neighborhood to find out if they have accepted any parcel on your behalf. So you should ask around the people in your surroundings before you contact the USPS.
If you still don't find out where your parcel is, then contacting the authorities is the only option you have.
Any message that includes the phrase "tendered" indicates that your package has been passed on to a last-mile delivery company such as USPS. When you place an order, the shipment goes through a series of steps or stages before arriving at your doorstep. International courier businesses such as FedEx, DHL, and 4px contract with USPS to deliver packages to your nearest post office and then to your doorstep.
You might want to know:
FAQs
Do USPS delivery agents ask for ID proof while handing over the parcel?
No, USPS delivery agents don't always ask for ID proof. They do that only at times of special delivery.
Can a USPS package be delivered without being scanned?
Generally, all the USPS packages are thoroughly scanned before getting delivered. Sometimes the USPS skips the acceptance scan, but that is not an issue because the product still gets delivered without getting lost.
Can I see exactly where my USPS package is?
Yes, you can absolutely track your USPS package, for which you need the tracking number you have to enter in the search bar of the official website of USPS. Moreover, you can also use the official USPS mobile app or call customer service to know the exact location of your package.
Do USPS employees steal packages?
Although it is quite rare because most of the employees are very honest and well versed with the consequences of doing such a thing, it may happen sometimes. If you face this kind of issue, you need to report this to the postal inspectors as soon as possible to track the product and get it back to you to ensure that you don't incur a loss and get your package within the shortest time.
Why was my package delivered to an agent?
Okay, there is no need to panic as this means that the package is delivered to someone who will then give that to you. Generally, a family member at the destination address plays the role of an agent and accepts the parcel before giving it to you.
Can someone else pick up my package?
This is a prevalent question asked by many people, and the answer is Yes, you can. But there are some terms and conditions that you need to follow. Most importantly, if someone collects the package on your behalf, then he or she needs to bring a valid photo ID issued by the government. Besides this, he or she has to provide connection proof to the named person and the address given for the delivery of the package. Usually, a family member collects the order on behalf of the named person.
Why does my package on USPS say delivered and says Delivered to Agent, and I haven't received it yet?
Now you may think that your package is lost Or you have received a false notification. But that is not the truth. 'Delivered to Agent' means that the package has been delivered to someone who will then pass it on to you. This agent is generally a family member or an acquaintance who has some link with the addressee.
If a USPS operator makes an attempt to deliver your package but you are not available to accept it, they will seek someone to accept it on your behalf—usually a family member. The tracking record will then change to "delivered to agent".
The individual receiving the parcel is referred to as an agent, but it does not have to be an authorized individual. Packages frequently wind up with the local post office, and the USPS tracking system reflects this.
If your shipment is given to an agent for final delivery, it's most probably in the hands of the driver, who is on its way to deliver it to you or an agent.
It indicates your package was assigned to whatever delivery service was accessible at the moment and was the cheapest to complete the delivery procedure.
Does tendered for delivery mean out for delivery?
When a package is tendered, a notification containing an offer to carry the shipment is sent to a service provider. This occurs when FedEx transfers the package to the USPS but before it is "out for delivery."
Whenever you see "Tendered for Delivery" in your tracking details, it signifies your box has been transferred from FedEx, UPS, or DHL to the USPS, and they will be responsible for transferring it the rest of the way.
How long does it take to deliver after being tendered?
Normally, you will get your order within two days of receiving this email, however, this may take longer due to a variety of factors. If the tracking information does not change after a day or two, the best way is to contact the company from which you ordered and request an update.
Conclusion
So next time you see that USPS tracking states delivered to the agent, don't get worried. This means it has been received by someone on your behalf. It can be your family member or friends. First check with those people and if you still haven't received the parcel, then you can contact USPS.