USPS OR U.S Postal Service or United States Postal Service provide different services to its customers as per their need. If you are a frequent customer, then you must be aware of the process and services to send or receive parcels, mail, or packages. A letter carrier or shipment man delivers mail to the address and at a time of delivery many customers of USPS ask for Proof of Delivery-POD to make sure about the shipment of their packages.
With this excellent service of online tracking, people can end-to-end track their packages. With the help of tracking number printed on the receipt, one can easily find out the location of their package. Some people ask for proof of delivery to confirm that the parcel sends to the person correctly or not.
If you lost tracking number then you can check this guide: What to Do If You Lost Usps Tracking Number? – Quick Solution
When a sender wants to deliver a parcel to other parties, they ask USPS for a document of Proof of Delivery (POD) to make sure that they delivered their packages to the correct person. So in this article, we will explain on various topic related to proof of delivery like what is it, how is it look like, where you can get it, what mail classes provide it, etc. so let's start with the first question.
WHAT IS USPS PROOF OF DELIVERY?
A Proof of Delivery confirms that the receiver gets the package, mail or parcel that addresses by the sender. The POD is in the form of mail or letter with some information like recipient's name, the image of the receiver's signature, address, and the printed name and address.
Sometimes it can be a link that provides information about the shipment. The only guarantees of the shipment signature so one can ask for the sign as proof. They have a record of a signature because the postal worker or letter carrier will take the sign at the time of the delivery.
HOW TO GET PROOF OF DELIVERY?
The POD is not available for each city and state of US. It is open in 50 states, Puerto Rico and the Virgin Islands. Except for the other United States Territories and Possessions, it is unfortunately not available. The POD will not be available if you send it to other countries. In such circumstances, you have to contact the customer care Service center.
To get POD, you have to ask for signature proof. So a letter carrier will ask the receiver for signature at the time of shipment. By this way, the sender can avail this service.
WHICH MAIL CLASSES PROVIDE IT?
This service is accessible for free of cost. Priority Mail Express service and Signature Confirmation provide it.
It is available for Priority Mail Express, as follows:
It is available for Signature Confirmation, as follows:
Individual or Single requests are provided via mail or fax by article number.
Signature Confirmation service or privately printed extra service labels bulk proof of delivery is available for the mailers who use the electronic option when they use privately printed labels. Signature data obtained in CD-ROM or signature extract file formats by the customers. Mailers may have this bulk POD via signature extract file or email who are using Priority Mail Express Manifesting service.
HOW TO GET SIGNATURE PROOF OF DELIVERY?
To get the Signature POD, you have to request a receipt. And for that you have to follow the steps given below:
Step 1:
Go to the main site of USPS from the link given below:
Step 2:
Now login to your account and locate Tracking option under the Quick Tools tab.
Step 3:
In the blank field, write down the Label ID.
Step 4:
Click on the Find button.
Step 5:
Next, click on See Details.
Step 6:
Now, click on Proof of Delivery link under Features option and fill all the necessary information.
HOW DOES POD LOOK LIKE?
POD or Confirmation Letter: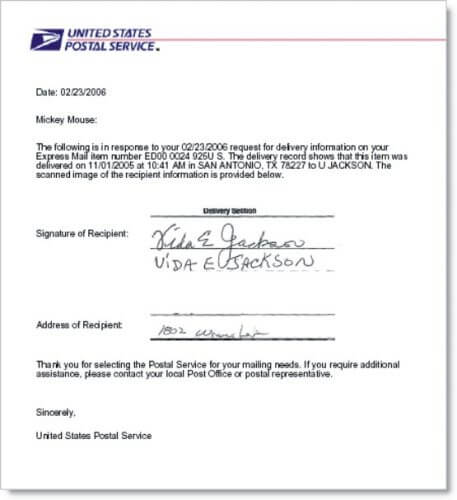 CONCLUSION on USPS Proof of Delivery:
An online tracking service is a reliable option provided by USPS offers, and the customers can easily track their mail items. With a tracking number on the receipt, you can track your parcel end-to-end easily. However, some people want to get a proof of delivery to make sure for delivery.
Note that this service is not available worldwide. You can use it in only 50 states, the Virgin Islands, and Puerto Rico. Other than that this service is not available anywhere. In case of foreign fright, customer contacts the USPS Customer Service to know more about it.